Sri Lanka say troops poised to take rebel HQ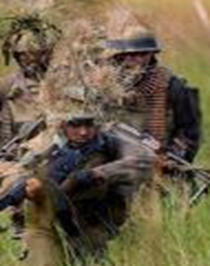 COLOMBO (AFP) — Sri Lankan government troops were Monday poised to finally capture the political headquarters of the rebel Tamil Tigers after months of fierce fighting, officials said.
Security forces were said to be within "kissing distance" of Kilinochchi, one of the two main towns in the north of the island still in the hands of the Liberation Tigers of Tamil Eelam (LTTE).
The government of President Mahinda Rajapakse has been predicting an imminent fall of Kilinochchi for several months, but government sources said the country's ruling People's Alliance was now gambling on a swift victory.
The officials said Rajapakse was preparing to call snap local elections in at least two councils in the northwestern and central parts of the island — to test public support for the war.
"The North-Western and Central Provincial Councils could be dissolved in a matter of days and elections called within about five weeks," a senior government minister said, declining to be named.
The national parliament is also to vote Monday on an annual budget for 2009, which allocates 1.6 billion dollars for the war effort, up from 1.5 billion dollars in 2008.
The president, who pulled out of a Norwegian-brokered truce in January, has been banking on a military success against the Tigers and has said he will not accept anything short of the rebels' total surrender.
Still, the defence ministry said LTTE fighters — who still control a large swathe of jungle in the north — continued to put up stiff resistance around Kilinochchi.
However, the ministry said a ground offensive backed by aircraft was under way despite monsoon rains, with troops capturing two bunkers and destroying another on the western approach to the town.
"Terrorists have also put up stiff resistance in the area despite sustaining heavy losses," it said in a statement.
Sri Lankan government forces are also reported to be advancing on the northeastern coastal town of Mullaittivu, the LTTE's main military base.
The ministry did not give details of its casualties, while there was no comment from the guerrillas. There were no independent accounts of the fighting.
The LTTE in a rare statement e-mailed to reporters on Monday accused government forces of shelling civilians inside rebel-held territory.
"Three civilians… were reported to have sustained some injuries due to a December 6 shelling," the Tigers said.
(For updates you can share with your friends, follow TNN on Facebook, Twitter and Google+)