Rajapaksa: will launch new spring in the north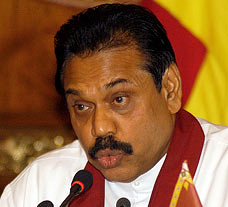 As Sri Lanka's military made further advances into the LTTE-held territory in the north, President Mahinda Rajapaksa on Tuesday claimed the government, "in addition to the new dawn in the east, is ready to launch the new spring in the north."
At a ceremony here, Mr. Rajapaksa claimed the government has taken steps to free the people in the north, who "have been under the yoke of terror for so many years," and the government would launch development programmes.
"Our troops are not only gaining territory and liberating the people, they are also moving ahead with development of those areas. We will liberate this country from the clutches of terrorism. We will raise the standard of living of all our people, and establish a society where all can live without fear or mistrust. We will strengthen the rural people," he said.
Separately, the Defence Ministry said troops deployed in northern battlefront attacked LTTE defences in Kilaly, Jaffna Peninsula. It said Army snipers along the forward defences gunned down a terrorist in Muhamalai and troops of the 59th Division, heading towards LTTE's main military bastion in Mullathivu, continued their offensive while consolidating new positions.
In a report posted on its website, the LTTE alleged that three civilians, including a mother and her nine-year-old child, were killed when a claymore mine explosion. The LTTE further claimed a "massive reduction" of the relief rations given by World Food Programme to internally-displaced in Wanni has led to starvation.
Meanwhile, the United National Party (UNP), the main opposition party, received a shot in the arm with the return of the dissident leader and Public Administration Minister, Karu Jayasuriya, to the party fold. Paving the way for reconciliation with dissidents, who broke away from the party and joined the government in 2007, UNP leader and the former Prime Minister, Ranil Wickremesinghe, on Monday announced the appointment of Mr. Jayasuriya as the party's deputy leader while party chairman Rukman Senanayake was appointed assistant leader.
There is speculation that some of the other dissident UNP MPs are planning to leave the government and return to the UNP.
The Hindu : International : Rajapaksa: will launch new spring in the north
(For updates you can share with your friends, follow TNN on Facebook, Twitter and Google+)