Sri Lanka's 'Somalia conditions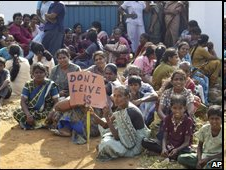 A UN official in a rebel-held area of northern Sri Lanka has said that conditions for displaced people there are "as basic as in Somalia".
John Campbell, from the World Food Programme (WFP), told the BBC Sinhala service that conditions were "as basic as can be" and "much less than ideal".
Mr Campbell was speaking from the rebel-held village of Dharmapuram.
The area is close to recent heavy fighting between Tamil Tiger rebels and the Sri Lankan army.
Independent journalists are prevented by the government from travelling to war-hit areas of the country – the WFP is one of the few foreign agencies allowed to deliver aid to the area.
'Waterlogged'
Mr Campbell said that many of internally displaced people in Dharmapuram were living in flimsy shelters soaked by recent heavy rainfall.
"They are extremely uncomfortable in waterlogged camps and depending almost entirely on international aid for food," Mr Campbell told the BBC.
Sri Lankan officials say that the rain has also brought much of the fighting in the north to a halt and that only "intermittent skirmishes" between the Tamil Tigers and the army have recently taken place.
Mr Campbell insisted that displaced people were getting enough food, despite their miserable living conditions.
"It is basic as it can be. I haven't seen anything so basic since when I was in Somalia."
Somalia has been without an effective central government since President Siad Barre was overthrown in 1991.
Years of fighting in the African nation between rival warlords and an inability to deal with famine and disease have led to the deaths of up to one million people.
Essential aid
The UN estimates that there are about 230,000 displaced people throughout rebel-held areas in the north.
A UN aid convoy – comprising of 50 trucks – arrived in the rebel-held area on Tuesday after being given clearance by the Tigers and the Sri Lankan military.
(For updates you can share with your friends, follow TNN on Facebook, Twitter and Google+)