Fonseka stirs hornet's nest in India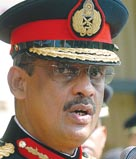 Generals are not jokers. Nor do they brand politicians they don't like as jokers. Because, the generals know they cannot hope to get away with such disparaging remarks.
General Sarath Foneska appears to be an exception. He is on a one year extension — some thing rare in the annals of military history. And the government of the Rajapakse troika is reposing trust in his ability to deliver Pirapaharan dead or alive. Yet, Mangala Samaraweera, a senior politician and former minister, opines that this 'highly' decorated soldier qualifies only as the head of the Salvation Army, not as the Commander of the Sri Lanka Army.
Samaraweera is not alone in holding a mirror unto the General. All because he suffers from Foot-in-Mouth (F-i-M) disease. Generally, politicians are afflicted by the disease the world over in these days of 'sound byte' journalism and 24×7 live TV.
Bushisms
There is the outgoing President of the United States of America, George W. Bush, Junior, who has enriched the political lexicon with his guffaws. Bushisms as these 'gems' have come to be known have provided comic relief, lifting the mood in a depressing economic scenario.
India has its own share of senior politicians who suffer from F-i-M. S.B. Chavan, whose son Ashok has just taken over as the chief minister of Maharashtra, belonged to this tribe, though he had earned the nickname of headmaster for his no-nonsense attitude as a chief minister and then as a union home minister.
Leader writers poked fun at his F-i-Ms but he remained unmindful till the end, prompting a wag to remark that such leaders are a necessary adjunct of the political system to make it alive and interesting. As far as one can make out, this F-i-M syndrome has not hit the bureaucrats and generals in India and the US as they prefer to carry out their tasks far removed from the glare of TV lights.
Ruling Troika
The Lankan Army Chief, General Sarath Foneska has been shooting his mouth wide, indeed very wide, with every passing day. The Defence Secretary should have pulled him up by now.
But that gentleman refuses to forget that he was a junior army officer till his fortunes turned for the better and he became a part of the ruling Troika and its self-propelled TINA ( there is no alternative) syndrome. Any how, the Secretary is no stranger to F-i-Ms, and has been landing his government in hot water from time to time with loose comments that have a bearing on relations with India and on events in India.
Either the President's Office or the Foreign Office should have stepped in to 'set the record straight' since tiny Colombo cannot afford to ruffle the Delhi feathers. It did not happen.
Obviously, Colombo believes that it can get away with whatever it does because it has perfected the art of playing the Pak-China card against India and Iran card against the United States.
Super powers are like sleeping jumbos and can afford to take things in their stride. But only up to a point.
Anyone familiar with the pachyderms knows one home truth and it is that when a jumbo gets up, it walks majestically, trampling upon whatever comes its way. Sisupala in Mahabaratha learnt this the hard way.
Any how, bravado has a limited shelf life. General Foneska should know it better. Discounts for military speak notwithstanding.
Fail to act
When his army and the airforce fail to act on the Indian managed radar alerts, he should know it is time for him to keep his trap shut and stop offering pious platitudes like, for instance, 'If we are supported by India we also could finish the LTTE faster than this.' This gem is a part of the interview he gave to the Sunday Observer (December 7), which will form a classroom text for generals for an altogether different reason.
In the course of the interview, Fonseka harps on his 37-years of service in the army. That long stint should have taught him some dos and don'ts and one of the don'ts is not taking on the political class at home.
Surprisingly, he not only takes on the political class at home but also the political class in Tamil Nadu, going to the extent of calling them 'jokers,' 'mad' and 'corrupt.'
In his considered view, 'Mangala Samaraweera must be working on a contract given by the LTTE and the anti-war people in the south who want to see the army losing the war and the LTTE winning it.' And the allegation that the security forces of Sri Lanka don't have concern about civilians is made, 'only by corrupt politicians in Tamil Nadu who have been bribed by the LTTE.'
Reading these remarks and noticing the 'Mauna Vrata' of the Rajapakse troika, one is tempted to ask what has gone wrong with the General and his political bosses? Has he gone nuts? By extension his political masters. More so because gloves are off against them too with every politico gearing up for a battle of wits and nerves.
Privilege
It is Fonseka's privilege to get locked in a slanging match with political leaders currently out of favour with the ruling dispensation. But what business has he got to indulge in mudslinging on politicos of a neighbouring country?
It is not that they (TN leaders) are paragons of virtue and are lily white. Whether they are or not is not the concern of a General who is part of an administration which has its own quota of corruption and bribe scandals that range from the December 7 disclosure of a massive foreign liquor racket to the weeks old Rs. 2.5 billion muddle in import of Chinese rail coaches. In between there are millions of dollars worth of Pakistan imports that have hurt Lanka's war machine and have become subject matter of a battle with the media.
From the turn of events, it is clear that General Foneska has become a one-man pack of sledge-hammerers to wreck India-Sri Lanka relations.
He knows and admits that the 'Indian government cannot just look the other side when it comes to Tamil sentiments' and yet holds out a homily to Tamil Nadu politicians, going, in a manner of speaking, beyond the call of his duty. What else should one construe from the remark: "The Indian government has already expressed its stand on the Sri Lanka issue and Prime Minister Manmohan Singh has enough problems after the Mumbai terrorist attack… Nothing in favour of LTTE would happen."
General Fonseka has enough problems on hand. He should concentrate on addressing them. For instance, his casualty figures and the LTTE toll don't match. The military claims to have killed 11,000 LTTE cadres since July 2006 though the estimated strength of the Tigers in mid-2006 was 10,000. The current guesstimate of LTTE cadres is under 5,000 and they are being pursued with all the might of nearly 200,000 Sri Lanka forces.
Another issue that should grip his attention is what the ISN Security Watch says; 'the deaths and desertions' of the Sri Lankan army.
Also about the likely blood bath as 'Eelam War IV' reaches full-throttle for Kilinochchi.
There are about 150,000 civilians currently trapped in the battle zone. 'If the Tigers force the civilians to flee in all directions then the army will not be able to separate 15,000 or so Tigers from civilians. This may lead to a bloodbath and help the LTTE to escape to another part of Sri Lanka,' says the ISN assessment.
Generals, particularly serving army chiefs, even on extension, are expected not to become jokers and mavericks and thus become a laughing stock. Will someone advice Gen. Foneska?
(For updates you can share with your friends, follow TNN on Facebook, Twitter and Google+)