'Ghajini' poster drags Aamir Khan to court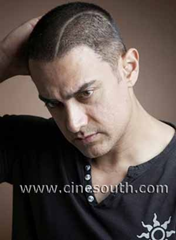 The Ghajini character undergoes a lot of confusion because of memory loss but there seems to be more confusion because of the Hindi 'Ghajini' poster.
"Hello…is that Aamir Khan? I'm your very big fan speaking…" If a busy businessman gets hundreds of phone calls like this every day, what a situation he must be in. So, the man has gone to court with a case against Aamir Khan, asking for loss compensation.
The Tamil version of 'Ghajini' staring Surya was a big hit and its Hindi version with the same title is being directed by same director AR Murugadoss with Aamir Khan in the lead. To be released this month, Mumbai is full of the 'Ghajini' posters. In the film, Aamir has a short span memory and on his body, he has written the cell phone number that he should call. This cell number is the trouble.
It happens to belong to Dr. Surekha Varma. After the posters had been put up, she has been flooded with phone calls much to her shock. When the 'Ghajini' crew was asked about it, they said they had just come up with an imaginary number and had no idea it belonged to someone.
Now, another number on the poster is another source of trouble, since it happens to belong to a businessman Trilochan Singh. He has been flooded with calls and sms. Singh has no idea what of these are personal calls and business calls.
(For updates you can share with your friends, follow TNN on Facebook, Twitter and Google+)