Heavy casualties as Sri Lanka takes more Tiger territory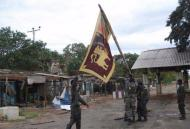 Sri Lanka's military has captured another key town from Tamil Tiger guerrillas in the north following heavy fighting that left scores dead and wounded on both sides, officials said Friday.
Security forces took control of Terumarikandi, about eight kilometres (five miles) south of Kilinochchi, the political capital of the Liberation Tigers of Tamil Eelam (LTTE), the defence ministry said.
Earlier, the army said it had taken Kokkavil, Olumadu and Pooneryn, all towns previously held by the rebels.
"Scores of LTTE cadres were killed and many others reportedly sustained injuries during the intense fighting reported in the area for last two days," the ministry said.
It gave no government casualty details after the latest fighting, but on Thursday placed military losses at 20 soldiers killed and claimed killing at least 27 guerrillas.
However, the LTTE, which on Thursday placed military losses at over 90 killed and 180 wounded, raised the figures to 120 killed and 280 wounded.
The guerrillas in a statement to the pro-rebel Tamilnet.com website said they beat back a two-pronged advance on Kilinochchi, which they have been defending for months in the face of Sri Lanka's biggest military offensive.
The defence ministry released photographs of its troops in the Terumarikandi area while pro-rebel websites published pictures of what it said were several soldiers killed by them.
It is virtually impossible to verify casualty claims by either side as independent reporters and aid workers are banned from the north.
(For updates you can share with your friends, follow TNN on Facebook, Twitter and Google+)