IDPs fleeing to LTTE areas – GA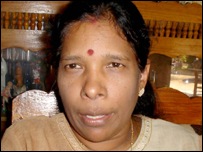 Internally Displaced People (IDPs) in the rebel-held areas are facing severe difficulties as hostilities have commenced after the floods, a senior government official said.
Emilda Sukumar, the Government Agent (GA) for Mulativu district, told BBC Sandeshaya that many IDPs are fleeing towards the LTTE controlled territory despite repeated appeals by the government.
The Government Agent spoke to the BBC from Vavunia after returning from a tour in Mulativu.
"I do not know why they are not coming to cleared areas. But in Oddusudan, yesterday I saw that they are fleeing towards Pudukudiiruppu area," Ms. Sukumar said.
Malaria and Tuberculosis
Shell attacks have begun after a relative lull in hostilities in Mulativu, she said.
Ms. Sukumar added that the IDPs who were camping in Mulativu have started packing their bags and fleeing once again.
"I heard of a family which was displaced more than ten times. Yesterday, I also saw a house which had seven families living in it. Even that was not a proper house but it is a temporary structure," she told BBC Sinhala service.
Quoting from doctors from the area, the government's main administrative officer in Mulativu district added that in Pudukudiiruppu, people are suffering from Malaria, Tuberculosis and malnutrition as a result of not having proper nutrition.
"We are issuing food from the government via Resettlement Ministry and many of the IDPs are also getting food from the WFP. But they are only getting dry rations. The IDPs have to buy other food but it is very difficult for them to find a place to buy as the shelling has started once again," she said.
(For updates you can share with your friends, follow TNN on Facebook, Twitter and Google+)