Pulamai Pithan's novel will create a stir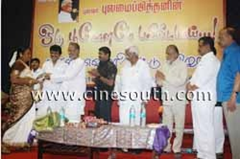 At times, Pulamai Pithan has lyrics in one eye and politics on the other. He has written a novel 'Bookollame Balipeetamaai.'
At a function yesterday, Pazha Nedumaran released the book. Among those present included actor Parthiban and producer Thanu. It seems Pulavar has written in an angry tone about the continued sufferings of the Tamil people. It also refers to the Eelam issue and is expected to create a furore.
About this book, Pulamai Pithan has written a letter.
'Bookollame Balipeetamaai' – I've written the book but am not a great writer.
I'm an ordinary man. This novel is a treasured work. For long, I have suffered, seeing the continued sufferings and torture and losses of the Tamils. I researched into the reasons for this and want the Tamils everywhere to know about them.
The sufferings of the Tamils because of the location of the Indian sub-continent, is what I've written about, with no ulterior motive, but just as a middle man, who has been observing all this and wants others also to see.
I've not written this book to earn money or fame. I'm only doing my duty as a Tamilian to the Tamil fraternity, as a true friend and well wisher. My Tamil friends from all over the world should read this novel. What I have learnt and felt should be learnt and felt by others too.
(For updates you can share with your friends, follow TNN on Facebook, Twitter and Google+)