Suriya inaugurates Home Sweet Home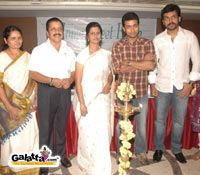 Mindmoulders (a counselling centre) opted for film actor Sivakumar and his family – which has become an epitome of a sweet and ideal family – to inaugurate its new clinic Home Sweet Home.
It was a sight to behold proud parents Mr. and Mrs. Sivakumar standing next to their successful children and lighting the ceremonial "kuthu vilakku" to mark the clinic's start.
With every improvement humanity makes, the pace in its lifestyle also gets increased. The mental fatigue such a lifestyle causes wears out an individual. Home Sweet Home aims to soothe your frayed nerves with its staff well-trained in the art of counselling.
When the guests – Mr. and Mrs. Sivakumar, Suriya, Karthi, and Brinda Sivakumar – spoke at the function, they pinpointed the necessity of such counselling centres.
Sivakumar ridiculed the present scenario where couples seek divorce at the drop of a hat! He cited cases where couples sought divorce because of trivial reasons such as "snoring". The veteran actor pointed out that the present generation is highly "pressurized" and instead of seeking solutions to problems, tries to avoid them.
Extolling the benefits of counselling centres such as Home Sweet Home, actor Suriya said that in his younger days, he found it hard to discuss some issues with his parents, though they were highly welcoming and open. He pointed out that counselling centres like this would be highly useful to young adults.
(For updates you can share with your friends, follow TNN on Facebook, Twitter and Google+)