Sri Lanka Economic Growth Slows to 6.3% on Exports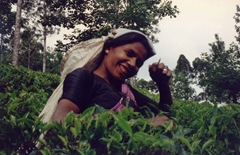 Sri Lanka's economic growth slowed last quarter as a global recession reduced demand for the nation's tea, rubber and textile exports.
Gross domestic product expanded 6.3 percent from a year earlier, compared with 7 percent in the three months ended June 30, the statistics department said in Colombo today. Economists were expecting growth of 6.1 percent.
Sri Lanka's central bank is adding cash into the economy to drive down interest rates and stimulate consumer demand to support growth. The effort may be negated by a downgrade of the country's credit ratings by Standard & Poor's yesterday, which can increase borrowing costs.
"Growth in services and the industrial sector may remain sluggish if high interest rates prevail," said Bimanee Meepagala, an analyst at Eagle NDB Fund Management Co. "The main growth driver would be agriculture, driven by the liberated regions" from the Tamil Tiger rebels.
The Colombo All-Share Index rose 0.3 percent to 1531.98 at 12:16 p.m. local time. The yield on the benchmark 2-year bond was unchanged at 20 percent. The rupee, which had weakened to 112.10 against the dollar before the economic data was announced, strengthened to 111.80, according to Hatton National Bank Ltd.
The economy grew more than analysts forecast as farm output almost doubled to 12.4 percent last quarter from the three months to June. Growth in services, which make up 60 percent of Sri Lanka's economy, slowed to 5.5 percent last quarter from 6.9 percent, while industry growth eased to 5.6 percent from 6.9 percent.
Paddy Cultivation
"There has been a record increase in paddy cultivation," said Nalani Kumarasinghe, head of the national accounts division in the statistics department. "Final-quarter growth will likely slow because of the impact on trade from the global turmoil."
The island's economy may expand 6 percent this year, on the lower end of the central bank's 6 percent-to-6.5 percent forecast, Suranjana Vidyaratne, head of the statistics office, said today.
Sri Lanka's LMD-Nielson business confidence index fell in December for the third time in six months as the global recession deepened. The index, prepared by the Nielson Company and Lanka Monthly Digest, declined 5 points to 87.
The country's exports rose in October at half the average pace of the previous year as a recession in the U.S., Europe and Japan curbed demand for Dilmah-branded teas and other shipments. Overseas sales climbed 5.9 percent from a year earlier after declining 9.4 percent in September.
Rating Cut
Sri Lanka's credit rating was cut to B, five levels below investment grade, by Standard & Poor's yesterday on mounting public debt and political and security concerns.
A lower rating will make it more expensive for the nation to borrow from international financial markets to fund spending on defense, roads and ports in the $32 billion economy. That may force President Mahinda Rajapaksa to raise funds domestically, preventing interest rates from declining in a nation that already has Asia's highest borrowing costs after Pakistan.
Sri Lanka's parliament this month approved the government's plan to increase external financing, including loans from foreign governments, by 25 percent to 154 billion rupees ($1.4 billion) in 2009. That will help fund more than a tenth of the government's total spending of 1.19 trillion rupees.
The government plans to spend a sixth of its budget for next year on defense, aiming to defeat Liberation Tigers of Tamil Eelam rebels who have been waging a civil war for a separate homeland for a quarter of a century.
War-Ravaged
Rajapaksa has said ending the conflict with the Tamil separatists will turn the war-ravaged east and north into productive parts of the economy, increasing output of rice and freeing up access to the nation's only natural deepwater port.
The Tamil Tigers have lost control of the country's eastern province and been pushed into one stronghold in the north by the Sri Lankan military in the past three months. The government has said it's seeking $1.8 billion in aid to rebuild the province and bring investment and tourists to the region that has a 426- kilometer coastline.
(For updates you can share with your friends, follow TNN on Facebook, Twitter and Google+)