Sri Lanka launches air attacks as ground battles rage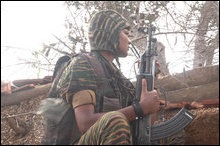 Sri Lanka launched air strikes against the Tamil Tigers as government troops made a fresh bid to penetrate defences around the rebels' political capital, according to the military.
Planes carried out seven bombing sorties on Saturday in support of soldiers trying to capture Kilinochchi, the political headquarters of the Liberation Tigers of Tamil Eelam (LTTE), the defence ministry said.
"Air force fighter jets made seven successive air strikes targeting LTTE defences and strategic locations in Wanni (of which Kilinochchi is the capital)," the ministry said.
The strikes came as the navy on Saturday destroyed a Tamil Tiger vessel carrying arms and other supplies off the island's northeastern coast, the ministry said.
It said four more rebel craft in the area supporting the weapons-carrying ship were also attacked by navy patrol craft, but there were no details of casualties.
There was no immediate comment from the Tigers.
The Sri Lankan navy earlier said it had sunk virtually the entire fleet of arms-carrying ships of the Tiger guerrillas.
The LTTE said this week it repelled a multi-pronged offensive by government forces, killing 170 soldiers and wounding 420 others on Tuesday and Wednesday.
The military rejected rebel claims and said they lost only 25 soldiers, and placed rebel losses at 120 killed and 250 wounded.
President Mahinda Rajapaksa's government has been predicting the imminent fall of Kilinochchi for months, and the military recently said it was within "kissing distance" of the town.
Both sides have claimed to be inflicting heavy losses in the recent battles. It is not possible to verify the casualty claims as independent reporters and aid workers are banned from the north.
(For updates you can share with your friends, follow TNN on Facebook, Twitter and Google+)