Terminator's hero is 'Peranmai' villain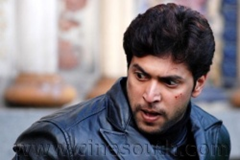 Jananathan has made the hero of the film 'Terminator 4′ to act a villain in 'Peranmai'.
'Peranmai' is the film starring Jeyam Ravi and directed by Jananathan. Shooting is taking place in and around the forests in Kerala. Jeyam Ravi appears as a forest officer in the film.
Jananathan was not sure of whom to sign on to act in the role of the villain. Finally he invited the Hollywood actor. Yes, Roland Kickinger who was the hero of the film 'Terminator 4′ is the villain in this film.
Speaking about it, Jananathan said: "Jeyam Ravi is acting as a forest officer in 'Peranmai.' Some terrorists enter the forest with the intention of creating terror in the country. Roland is acting as the leader of that gang. Arnold was the star of 'Terminator.' Roland is acting in the same role in the fourth part. He put some conditions before signing the contract. He would not work on Saturdays and Sundays and he would work only for 8 hours which were agreed by us.
(For updates you can share with your friends, follow TNN on Facebook, Twitter and Google+)