Panchamirtham gets great response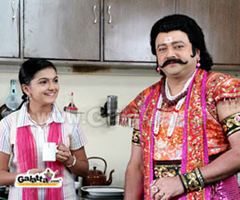 Comedies based on fantasies have become extremely rare these days. But Abhirami Ramanathan has revived this dying genre with his Panchamirtham (also spelt Panchamritham). As he promised, it is a rare treat for families trying to get away from the monotony of their life and for those who want to have some hearty laughter. One look at Abhirami Ramanathan's Abhirami Mall and Theatre complex would convince you that no one else is better qualified to make a fantasy-based comedy!
It has been quite a while since we saw families visiting theatres together (not considering the currently-running Dindigul Sarathy). At theatres playing Panchamirtham, not just families, college students are also are seen in mirthful groups. Amidst this massive crowd, one scene particularly attracted our attention: audiences seeing the film for the first time trying not to listen to revisiting audiences who are discussing the film's jokes enthusiastically! It was funny! Though they want to avoid listening to the fun-spoilers, they hardly could resist!
Well, if you think this is just another comedy film, you are wrong. There are some comic twists in the tale, especially in the sub-plot related to Arvind! Panchamirtham is an experiment which has got a very good response from audiences. Mythological rivals Mareesan and Idumban come alive in this film and take sides in the battle between love and greed!
By his excellent narrative skills, director Raju Shankar (who also plays Idumban) has been able to build a neat plot with quite a lot of funny situations strewn in it. For the youth, there is Samiksha (who has the rare quality of looking glamorous no matter what role she plays) and the new heart-throb Saranya Mohan. Raju Shankar deserves a huge round of applause for being able to make a film that entertains children and youth alike.
Nasser has done a very neat job in his dual roles; Jayaram, the actor with a great sense of humour, excels in his role as Mareesan. And there is an array of comedians – M.S. Bhaskar, Mayil Sami, Karunas – raising the laughter quotient. Panchamirtham has 10 times the fun that 1995 classic Lucky Man (Karthik and Goundamani) had!
(For updates you can share with your friends, follow TNN on Facebook, Twitter and Google+)