Sivaji: Available on Blue-Ray now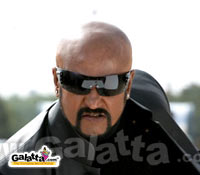 After acquiring the DVD rights of Rajni starrer Sivaji directed by Shankar, Ayngaran International has launched Sivaji on Blu-Ray, the next-gen discs! Now, Sivaji Rajinikanth is not only a 'Vellai Tamizhan' but is also the brightest Tamizhan on TV!
What is Blu-Ray? While conventional CD and DVD readers/ writers use red laser rays to read or write/ read data, Blu-Ray writers uses blue laser rays (405 nm), with wavelengths shorter than red lasers (650 nm), which means the blue laser is finer than its red counterpart. This allows Blu-Ray writers to write more data in less space with greater precision. This is analogous to a sharp-sighted artist (enabled with good magnifying glass) painting on a grain of rice with his finest brush. Finer the brush, finer the art work; for these artists, there is enough space on a single grain to draw landscapes or intricate designs and patterns! Similarly, a single Blu-Ray DVD can store up to 500 GB of data.
Of late, being available on Blu-Ray format has become a status-builder for films. To that extent, Sivaji has added one more feather to its cap.
(For updates you can share with your friends, follow TNN on Facebook, Twitter and Google+)