Suicide blast near Sri Lanka capital kills eight: officials
A Tamil Tiger suicide bomber killed seven security personnel and a civilian at a base just outside Sri Lanka's capital on Sunday as troops mounted pressure on the rebels in the north, officials said.
The male bomber infiltrated the base of the Civil Defence Force near a market in Wattala, a suburb of the capital Colombo, a police official at the scene said.
"The suicide bomber managed to get through the first checkpoint and stage the bombing inside the CDF detachment," the officer said. "An officer and four men were killed on the spot."
The wounded were taken to the main hospital in Colombo as well as a nearby medical facility, doctors said.
Twenty people were taken to hospital, of whom three were dead on arrival.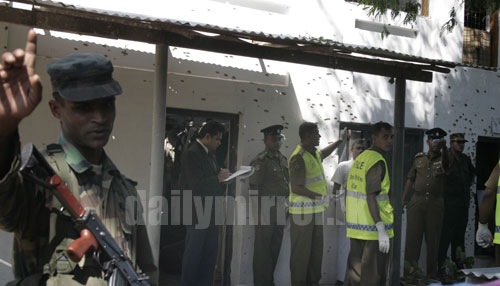 Several vehicles at the nearby market had their windscreens shattered.
Military spokesman Brigadier Udaya Nanayakkara said military reinforcements were rushed to the area to step up security and help with the investigations.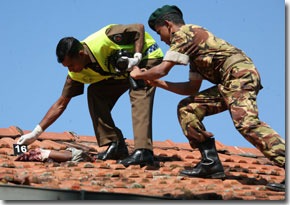 It was the first attack near the capital since the Tigers were blamed for an abortive bombing against a government minister in early October when two bystanders were killed.
On October 22, the rebels used boats packed with explosives and manned by suicide bombers to target two merchant ships off the island's northern coast. Suicide bombings are a trade mark of the Tigers.
The bombing came as the guerrillas faced a massive Sri Lankan military offensive against their stronghold in the north of the island, their main political capital of Kilinochchi, 330 kilometres (206 miles) north of here.
Military officials said the air force carried out two bombing sorties against the Tigers near Kilinochchi on Sunday morning.
Separately, the Sri Lankan navy said it had sunk a Tamil Tiger boat carrying an arms shipment together with four guerrillas off the island's northern coast on Sunday.
The defence ministry said naval craft detected the boat off the coast of Point Pedro just after midnight and destroyed it.
The military has accused the Liberation Tigers of Tamil Eelam (LTTE) of smuggling in weapons from abroad.
"Four LTTE Sea Tiger cadres were also reported to have been killed due to the fierce naval fire directed at the enemy (on Sunday)," the ministry said.
Last week, Sri Lanka's navy said it had destroyed a Tamil Tiger vessel carrying arms and other supplies.
The navy had previously announced that it had sunk virtually the entire fleet of arms-carrying ships belonging to the Tiger guerrillas, who were known to operate a lucrative shipping business through front organisations.
(For updates you can share with your friends, follow TNN on Facebook, Twitter and Google+)