Centre delaying decision on Lanka: MK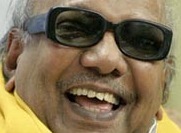 Charging the UPA government at the Centre with delaying a decision on the Lankan Tamils issue, Chief Minister M Karunanidhi on Saturday made a passionate and fervent plea to send External Affairs Minister Pranab Mukherjee to Colombo for ensuring a ceasefire there.
"The Centre should not forget that every moment of delay in ensuring a ceasefire means a Tamil life is lost in Lanka…we make a tearful appeal to the Centre to immediately depute Mukherjee to Sri Lanka as promised by Prime Minister Manmohan Singh to the all-party delegation on December 4," Karunanidhi said at the DMK general council meet after being elected as party chief for the 10th consecutive term.
"We have, years ago, resigned our membership in the State Assembly for the sake of Lankan Tamils… now we are ready to sacrifice anything for the sake of the Lankan Tamils — even our lives", he said.
Stating that efforts to save the Tamils should be in line with the policies of the Government of India, he said: "It should not be a path of violence and other anti-national means… We will accept the decision of the Centre on the issue". The Centre should ignore the charges made by certain forces that the request for ceasefire was being made to favour the LTTE and not the Lankan Tamils, he added.
The general council adopted a resolution urging the Centre to depute the Mukherjee to Sri Lanka immediately.
(For updates you can share with your friends, follow TNN on Facebook, Twitter and Google+)