'Melody Master' Harris Jeyaraj's 2008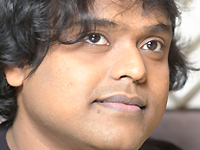 The year 2008 had a lot in store for 'Melody Master' Harris Jeyaraj who holds a series of modern melodies to his credit. 'Bheema' began his lucky charm this year which had some mellifluous tunes like 'Mudhal Mazhai' and 'Ragasiya Kanavugal'. Harris had always been admired for his melodious tunes starting from his first 'Vaseegara'.
After 'Bheema', the composer had a long break which was reasonable as he emerged with a collection of super hits near the end of the year. Vishal's 'Satyam' released in the mid-year had some wacky and soft tunes mingled with dazzling background score. Be it the comical number 'Adagada Dum' or the soft melody 'En anbe', Harris scored in every style and satisfied his patrons of all genres.
'Dhaam Dhoom' is one music album which became a hit even before the actual movie got out. Directed by Jeeva, Harris bought out his best for the director with his outstanding tunes. 'Yaaro Manathile' was one of the most hummed melodies of the year 2008. The instruments had a certain soothing feel which made it a favorite among ardent music lovers. The romantic song 'Anbe En Anbe' became one more feather in his cap.
Last but not least, it was Gautam Menon's 'Varanam Ayiram' for which Harris Jeyaraj tuned his trenchant music of all time. He has always delivered Gautam's movies with composition which was nothing short of marvelous music. Harris's 'Mundhinam Parthene', 'Nenjukul Pedhidum' broke records and made it to the top of the charts. Even now as we near the end of this year, the songs still reign over the newcomers by being in the first five.
(For updates you can share with your friends, follow TNN on Facebook, Twitter and Google+)