Less offers as Vadivelu hikes his fee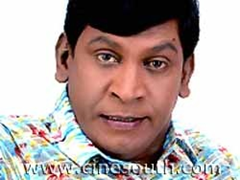 The frog begets misfortune through its own talk. The elephant throws mud on its own head. This holds good for Vadivelu too.
Vadivelu was an office boy in Rajkiran's office before he entered films as a comedian. His body language, dialogue delivery and Madurai slang elevated him to being Vaigai Puyal. By sheer hard work, he has come up, but he himself seems to be the villain to his success.
Five years back, after his market picked up, he changed his fee to so much per day. From thousands, his fee escalated to lakhs. From 'Imsai Arasan,' he started charging 8 lakhs per day for shooting. If he gives his complete call sheet for a film, he's demanding 3 crores for a film now. Like this, Vadivelu has earned exorbitant fee in some films.
When Marimuthu, director of 'Kannum Kannum' told him a story, Vadivelu agreed to act in the film. After dragging the director around for 2 months and bugging him to make umpteen changes, he suddenly said he could not act in the film. The reason was his fee. When he asked for 5 crores, the producer was shocked. And dropped him from the film.
If Vadivelu is paid 8 lakhs a day and his shooting is over in 2 tracks over 2 days, the fee would be 16 lakhs only given to him. Some producers say even this leads to tangles.
(For updates you can share with your friends, follow TNN on Facebook, Twitter and Google+)