Rajapaksa delivers speech in Tamil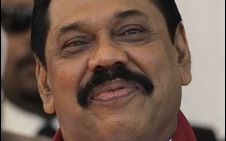 Breaking the linguistic barrier that had badly divided Sri Lanka, President Mahinda Rajapaksa on Tuesday addressed the people of the war-afflicted northern district of Jaffna in Tamil to drive home the message that he was determined to restore to them all that they had lost due to decades of terrorist activity in their midst.
"All that was lost to you due to terrorism will be restored. It will not be long before your brothers and sisters, who are trapped in areas such as Kilinochchi and Mullaitivu, can be happy.
That is when, just like the new dawn in the East, there will be a new spring in the North," Rajapaksa said in a video message to the "Future Minds of Jaffna" exhibition being held in Jaffna.
Delivering a speech in Tamil for the first time, Rajapaksa said it was time the people of Sri Lanka forgot the unfortunate events of the past. Beginning his address with the Tamil greeting 'Vanakkam', the President reminded his audience that in the past the people of the Sinhalese-speaking South and the Tamil-speaking North, had close interactions, with Northerners coming to Colombo to trade, and the people from the southern district of Matara setting up bakeries and restaurants in Jaffna.
Early leaders of the Tamils like Sir Ponnambalam Ramanathan, who spoke Tamil, Sinhalese and English, wished that all the ethnic groups lived together in unity, he recalled.
"The people in the South of the country always admired the industrious nature of those of the North. Similarly, it was the wish of the people of Jaffna that every one be as friendly as those from the South," he said.
"It was a student leader from Jaffna who made the first demand for freedom from colonial rule for our country.
(For updates you can share with your friends, follow TNN on Facebook, Twitter and Google+)