Sri Lanka army ready for 'decisive blow' on Tigers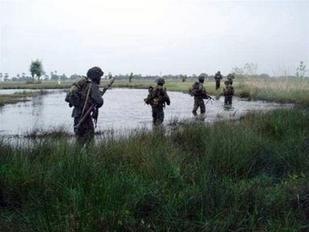 Sri Lankan security forces were ready to deal a "decisive blow" to the remaining Tamil Tiger rebels following the capture of the highly strategic Elephant Pass, the defence ministry said on Saturday.
After four days of fierce fighting, government forces on Friday established full control over Elephant Pass which links the Jaffna peninsula with the rest of the mainland.
"The fall… has deprived the Liberation Tigers of Tamil Eelam (LTTE) the most crucial strategic ground at the 'Jaffna gateway' following an eight year occupation," the ministry said.
"Troops are now poised at launching a decisive blow at the remaining LTTE strong points at Mulliyan, Chempiyanpattu, Chundikulam and Kaddaikadu."
The ministry had already declared that the ethnic rebels were facing near "extinction" after security forces captured their main political headquarters of Kilinochchi last week.
"The end-game of LTTE's protracted separatist cause is reaching its final stages, as the advancing security forces overran the most fortified LTTE northern garrison" at the Elephant Pass, the ministry said.
The Tamil Tigers, who have been fighting since 1972 for a separate homeland, had held the pass since April 2000, and its loss is another huge blow to the separatists after the fall of Kilinochchi last week.
"Our forces have recorded another historic victory today," President Mahinda Rajapakse said in a televised address to the nation on Friday.
"That is the complete dislodging of the Tigers from Elephant Pass and the security forces establishing their authority there," he said.
The military now controls a 142-kilometre (88-mile) stretch of the important A-9 highway and can supply troops and nearly half a million civilians in Jaffna by road, the president said.
There was no comment from the LTTE.
Government forces were also moving towards the remaining jungle hideouts of the Tigers in the northeastern district of Mullaittivu amid rebel resistance, the army said.
The rebels are now almost totally confined to the jungle and lagoon district, where some 300,000 civilians are also living.
The army on Saturday accused the rebels of killing seven civilians who were fleeing from the town of Murusumoddai, near Mullaittivu district.
Troops also recovered 11 rebel bodies following heavy fighting around the Murusumoddai area on Friday, the army said.
(For updates you can share with your friends, follow TNN on Facebook, Twitter and Google+)