Vijay's title for Prabhu Deva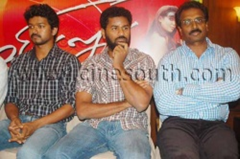 After 'Pokkiri,' Vijay and Prabhu Deva have teamed up in 'Villu' and the two of them seem to be full of mutual admiration.
'Villu' produced by Ayngaran International is due for release day after tomorrow. The film crew met the press yesterday.
One scribe posed many questions to Prabhu Deva like whether Vijay had a dual role and if he was appearing in a cameo and so on. In response, Prabhu Deva asked, "You seem to have broken the suspense. Are you the one who released the 'Villu' clip on the Internet?" to a gurgle of laughter from the press.
Prabhu Deva spoke appreciatively of Vijay's acting, Ravivarman's cinematography and Devi Sriprasad's music. One reporter pointed out that he had missed out Nayantara. "Oh my, did I? Well, she was to report for shooting on the first day at 7am but she turned up at 9am . I did wonder if this was a good sign, but she was on time for the rest of the shooting schedule. She is a very dedicated artiste," said Prabhu Deva in admiration.
Vijay spoke next. He said, "I have done 48 films so far. I feel now that 'Villu' should have been my 50th film, for it seems like the best film of my career. Like Superman and Spiderman, I have titled Prabhu Deva as Magicman.
I spend a lot of time with Prabhu Deva. I eat with him. He's very calm at such times. But once he's at the spot, he will explain a new scene and pleasantly surprise us. I would wonder how we could do the scene but he would come up with a better idea.
We have shot at several locations like air, water and earth. It's easy to say it and shoot. But to put in money without questions asked is not an easy thing.
(For updates you can share with your friends, follow TNN on Facebook, Twitter and Google+)