Thyagarajan in Bodyguard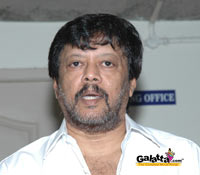 Thyagarajan, the actor who hogged the limelight in the 80s, is overwhelmed with film offers even today. Apart from being busy with his own production – the remake of Malaiyur Mambattiyan with his son Prashanth in the lead – Thyagarajan is getting busy with Malayalam films as well. The actor has secured a prominent role in Bodyguard starring Dileep and Nayantara and directed by Siddique. Not only this, Thyagarajan has been approached by two Kollywood filmmakers and is mulling over acting in their projects!
All this shows that the craze he gave arise to years ago has not died down. In the days when Kollywood heroes meant men sporting moustaches and pompadours or comb-overs dancing to the tunes of "melodious" songs, Thyagarajan personified everything macho: he sported a beard and mildly ruffled hair, had a towering physique and looked like the typical hero of a Western cowboy flick with one difference – this hero could express a gamut of emotions unlike his western deadpan counterparts! With his charismatic personality, even if he played a villain in the film, he was sure to hog the limelight; Alaigal Ozhivathillai is the perfect example. Soon, he scaled new heights in Kollywood with Malaiyur Mambattian and Komberi Mookkan.
Not just in Kollywood, Thyagarajan was equally famous in Malayalam films in the 80s. He played a vital role in Priyadarshan's Oru Muthassi Katha, which also starred Nirosha. With his unique acting style, he added great value to his role in director Joshi's (who also directed Twenty:20 recently) New Delhi. In fact, when the film was remade in Kannada and Hindi with legendary Dharmendra, the respective producers, impressed with Thyagarajan's work in the original, found it hard to even think of someone else playing his part. As a result, Thyagarajan reprised his role in the remakes as well.
It is delightful to hear that this actor is contemplating of acting in Tamil films again. We hope to see him in a Tamil film soon. Galatta.com wishes him the best of luck.
(For updates you can share with your friends, follow TNN on Facebook, Twitter and Google+)