World oblivious to Sri Lanka's genocide of Tamils, says music phenom M.I.A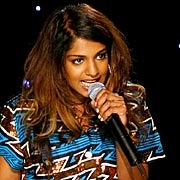 Maya Arulpragasam, better known by her stage name M.I.A, a British born Tamil and recent U.S. Grammy nominee, reveals that her music was shaped by her experience as a Tamil refugee from Sri Lanka, and accuses the International Community for standing idle as Colombo perpetrates acts of genocide against Tamils in Sri Lanka's NorthEast. In her interview to an Indian website, Maya adds: "[P]eople need to learn that you cannot wipe out a whole [Tamil] race."

Full text of the interview published in www.desihits.com website follows:
DH: What does success mean to you and what was your journey to success?
M.I.A: "I severely question that, I am a civilian Tamil refugee and I am the only Tamil in the media in the west. People have done big things in India, but as a Tamil its very interesting being here right now. I don't know if success means what you do as a refugee, how you make things happen without falling or getting killed? Things are different for me now that I am nominated for a Grammy. It is interesting and quite scary that I am the only Tamil person in the media in the west. So right now I am severely questioning that."
DH: What do you consider your nationality to be?
M.I.A: "I am actually British but I of course come from Sri Lanka and I am Tamil. I put on the TV and see what's going on in Sri Lanka and how people are being mistreated and it makes me question my connection to Sri Lanka. My origin is from Sri Lanka so I am British Tamil."
DH: What is your vision for Sri Lanka.
M.I.A: "It's really simple, Tamil people have to have the right to live. They have been successful with genocide in that country and are not being condemned from doing it. In the future, people need to learn that you cannot wipe out a whole race."
DH: How does your music represent you?
M.I.A: "Well, it represents me because I think it was impossible to make stuff the way I did if I didn't have that life style, it represents me being a Sri Lankan refugee. The sound and imagery and the style comes from real life."
DH: What is the mission behind your music?
M.I.A: "The mission is I want to be the person who is basically reflecting art. I was a Sri Lankan refugee, and I don't want people to misinterpret my work .I want to represent a Tamil citizen, not Tamil politics but a Tamil civilian. The situation I was in can apply to anywhere in the world, whether it is a person from Sri Lanka or Myanmar. It's interesting because I have experienced being a refugee in this generation. When you watch movies like 'Bhaji On The Beach,' it shows the second generation Desi culture. In my case, I was a refugee in my generation so I can actually remember the experience."
DH: In recent times, your music has become more mainstream and popular amongst the public. Because of this, many artists such as Timbaland and even A.R. Rahman have collaborated with you to create music. So, of course considering the DesiHits! audience and seeing the massive success of 'Slumdog Millionaire,' I had to ask how your experience working with A.R. Rahman had been.
M.I.A: "He is a well-respected [artist]. When I was young as a kid, he was one of my idols. He is great and I enjoyed working with him. He takes music to a different place for me."
DH: It is quite evident that you send out strong messages to the world through your music, so what are the key messages that you would teach your child as you are an expecting mother?
M.I.A: "I would teach my child tons of things. I want my child to see the third world countries, and be humble about what he or she has, and have sound judgment."
DH: So do you want a boy or a girl?
M.I.A: "It doesn't matter to me. If it is a girl, she will be a tough girl, but I think I may have a boy, because I have a pointy stomach."
(For updates you can share with your friends, follow TNN on Facebook, Twitter and Google+)