It is waning Pongal for Tamil cinema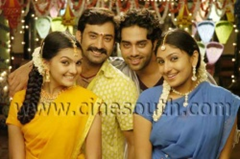 Villagers have a way of describing Pongal as waxing and waning. It is waning Pongal for Tamil cinema.
Few releases during festivals have become the order of the day. More than ten films used to be released for Deepavali or Pongal. Gradually they got reduced and since 2006 less than 6 films are getting released. Last Deepavali witnessed a similar trend and this Pongal follows that trend.
Only four films: 'Villu', 'Padikadhavan', 'A aaa, e,ee' and 'Kaadhalna summa illai' are getting released during this Pongal. But if we count the films waiting to be released, that may cross fifty. Let us turn our attention to the films that are released.
Vijay has a dual role in 'Villu' produced by Ayngaran International and directed by Prabhu Deva. Nayantara is the heroine. Prabhu Deva is reported to have executed the song sequences and fight sequences in a gigantic style. Of the 5 elements, shooting has been done on water, earth and in the sky.
Dhanush-Tamanna starrer 'Padikadhavan' is directed by Suraj. Blending action and comedy, the director has a field in providing pure entertainment. . It seems Vivek has excelled in his comedy. In one song sequence Dhanush appears as the midget Appu.
AV.M's production A, aa, e, ee' is directed by S.D.Saba. It is a re-make of the successful Telugu film 'Chandamama'. Navdeep and Akash are the heroes while Monica and Saranya are sisters in the film. Prabhu acts as Monica's father.
'Kaadhalna summa illai' has Ravi Krishna and Tejasri. Ilankannan who directed 'Otran' has directed the film. Three music directors, Vidyasagar, Manisarma and E.S. Murthy have composed music for the film.
Dailynews – It is waning Pongal for Tamil cinema
(For updates you can share with your friends, follow TNN on Facebook, Twitter and Google+)