Shivshankar Menon to hold talks with Rajapaksa, key leaders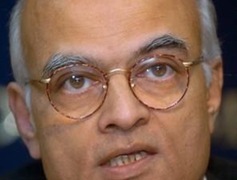 Foreign Secretary Shivshankar Menon who arrived in Colombo late Thursday will hold talks with President Mahinda Rajapaksa, the Foreign Minister and leaders of key political parties during his two-day trip, Government sources said on Friday.
According to the sources, Menon is expected to meet President Rajapaksa on Saturday in the central hill district of Kandy to discuss issues of bilateral interest and exchange views on the current development in the war-ravaged north, where the Government troops were fighting fierce battles against the Tamil Tiger rebels in their last strongholds.
A Foreign Ministry official said that the visiting Indian foreign secretary is scheduled to hold talks with Foreign Minister Rohitha Bogollagama, Foreign Secretary Palitha Kohona, Defence Secretary Gotabhaya Rajapaksa and senior presidential adviser Basil Rajapaksa.
He is also expected to meet leader of the main opposition United National Party (UNP) Ranil Wickremesinghe and leaders of key Tamil and Muslim parties in Colombo.
"The Indian Foreign Secretary is here on a routine consultation visit," an official said, recalling the visit by a top Indian delegation led by National Security Adviser M.K. Narayanan July last year and the return visit by Sri Lankan officials thereafter, including the visit by Basil Rajapaksa in October.
The Indian High Commission here is yet to make a statement on Menon's visit.
Although the sources described his visit as "a routine one", it comes a few days after Tamil Nadu Chief Minister M. Karunanidhi again urged New Delhi "to step up measures" to end the conflict in Sri Lanka which he said had caused suffering to the Tamil people.
The state-run Daily News under the headline "Welcome" carried the photograph of Menon on its front page, highlighting the importance of his stay in Colombo Friday and Saturday.
The Government last week said that it was planning to develop Kilinochchi, former political headquarters of the rebel Liberation Tigers of Tamil Eelam (LTTE) in the north, with the assistance of India. It is not known if this would be discussed during Menon's visit.
However, the radical Marxist Janatha Vimukthi Peramuna (JVP), well-known for its anti-India stand, has said that the "ulterior motive" of the visit by the Indian foreign secretary would be "to force the Government of Sri Lanka to evolve a political solution to the national question devolving power beyond the 13th Amendment to the Constitution."
According to a local media report, JVP Parliamentarian Bimal Ratnayake has said that India had no right to apply pressure on Sri Lanka to go for power devolution at this hour, which he said would help separatism.
Claiming that thousands of youth had to sacrifice their lives in Sri Lanka "due to certain blunders committed by India in the past", Ratnayake has said that India forced the Sri Lankan Government to sign the Indo-Lanka accord in 1987.
(For updates you can share with your friends, follow TNN on Facebook, Twitter and Google+)