Can Villu pierce Padikathavan?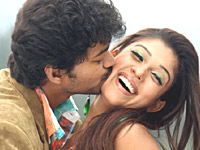 When you compare the statures of Vijay and Dhanush, it is obvious that Vijay is a mighty force to reckon with in Tamil Cinema and would easily breeze past Dhanush when it comes to the number of fans.
But then, can 'Villu' become more successful than 'Padikathavan'?….well….now…. here is something to think about? Let's take a look back at the immediate past to search for the answers. Vijay's previous release was the infamous 'Kuruvi' while Dhanush's 'Yaradi Nee Mohini' which released around the same time went on to become a huge blockbuster. Let's rewind a little further when Vijay's 'Azhagiya Tamil Magan' released. That was the period Dhanush's 'Polladhavan' also released. 'Polladhavan' went on to become a blockbuster while 'Azhagiya Tamil Magan' was a damp squib.
Going by this and also the fact that 'Padikathavan' is being promoted by the Sun Group, 'Villu' might find it hard to sustain its brilliant opening especially because mixed views have started pouring in about the film.
While Dhanush appears to have his priorities right and finds himself hoping for a hat trick of hits, Vijay has to come out of the shell he has got himself into, in order to get back to his winning ways. For all we know, 'Villu' might go on for a hundred days, but is Vijay winning more hearts by making out-and-out larger-than-life films with utmost disrespect to the art of screenplay?
Vijay is a natural crowd-puller with tremendous dancing and stunt abilities. But then somebody in Vijay's camp should be telling him this daily…. "Mr. Vijay, no matter how big a star you are, you have to bow down to the story and screenplay of your films for success. They should be the real heroes".
Probably when this realization dawns, Vijay will be back to his winning ways in style.
(For updates you can share with your friends, follow TNN on Facebook, Twitter and Google+)