9000 British Tamils gather in protest against war on Tamils in Vanni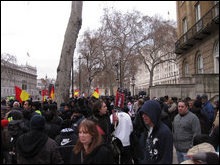 More than 9000 British Tamils gathered Saturday in front of No. 10 Downing Street in London participating in a mass vigil from 3:00 p.m till 7:00 p.m, urging British Prime Minister Gordon Brown to exert pressure on the governments of Sri Lanka and India to call for an immediate ceasefire in Sri Lanka. This event marks the third of the 'Awareness Campaign' organized by the Tamil Youth Organization (TYO) in United Kingdom.
A petition signed by the protestors was handed over to the Prime Minister's office. The petition, while expressing the gratitude for the Prime Minister's positive response to the question raised Wednesday by Hon. Keith Vaz, MP, in British Parliament related to peace talks in the Sri Lankan conflict, placed the following requests for the urgent consideration of the Prime Minister: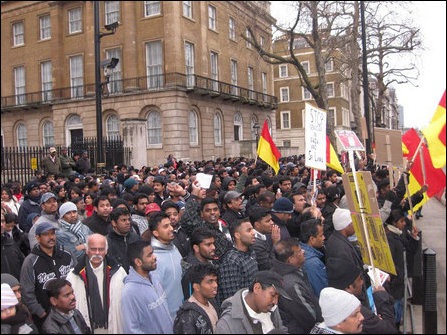 To exert pressure on the Sri Lanka government to opt for peace negotiation instead of war,
To exert pressure on the Indian Government to support the proposal for peace talks in Sri Lanka, and
To act jointly with the UN to bring about a peace process in Sri Lanka.
The safety barriers put up by the authorities for an expected number of 500 were continually widened during the protest demonstration as the number swelled with mothers with children, young and old joining in.
'Stop the war!', 'Stop Tamil genocide!', 'Mahinda! Stop the war!' and 'We want Tamil Eelam!' were some of the slogans shouted during the protest, along with the beat of drums.
"The worsening humanitarian tragedy unfolding in Vanni where Tamil civilians are pounded with indiscriminate artillery barrage and aerial strikes killing even infants and children has energized the Tamil Youths in UK to rise in protest," protestors said.
The protesters said they hoped the "Awareness Campaign" of the youths will grow into force that will bring British Tamils to act in unison to find a just and honourable solution to the Tamil struggle,"
(For updates you can share with your friends, follow TNN on Facebook, Twitter and Google+)