Indicate when Pranab will go to Sri Lanka: Karunanidhi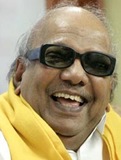 Chief Minister M. Karunanidhi on Monday said the Centre should have revealed the reason why External Affairs Minister Pranab Mukherjee could not go to Sri Lanka in an effort to find a solution to the problems of Sri Lankan Tamils.
At least, the Centre could have indicated the "appropriate time" when the Minister would make his trip. Since none of these happened, the State government was pained, he said in a statement.
Foreign Secretary Shiv Shankar Menon was just back from his trip to Sri Lanka, but there was no word on his trip either. "It is possible that something comes out later," he said.
There was only a hint of the Jayawardene–Rajiv Gandhi accord being a basis for a solution but there was no announcement on a possible ceasefire in Sri Lanka. Innocent Tamils were being killed in the country in the war waged by the Sri Lankan Army against the LTTE. The war could be stopped at least till the solution – being worked out on the basis of the Jayawardene–Rajiv Gandhi accord – is arrived at.
Mr. Karunanidhi said the DMK might lose power in the State for a third time for the cause of the Sri Lankan Tamils.
He said that in her statements, AIADMK general secretary Jayalalithaa had repeatedly said that before the year is out, the AIADMK would come to power in the State.
The DMK government still had over two years to complete its term and there was an effort to incite violence and unrest to topple the government here.
"If that happens, then, for the Sri Lankan Tamil problem we could lose power for the third time," he said and added that the DMK was aware of the conspiracies being hatched.
Mr. Karunanidhi said some parties in Tamil Nadu viewed the Sri Lankan Tamils issue as an opportunity to oppose the Congress and did not see it as a humanitarian issue of the Tamils.
The leaders of these parties had mixed up the Tamils issue with their political calculations. This has only served to divert the issue from the pressing need to protect Tamils on the island nation, he said.
Mr. Karunanidhi recalled that PMK founder S.Ramadoss, VCK president Thol. Thirumavalavan and DK president K. Veeramani had met him on January 12 and declared that they would act on the issue based on the decision of the Chief Minister. After publicly stating this, Mr. Thirumavalavan had gone on a hunger fast on his own.
(For updates you can share with your friends, follow TNN on Facebook, Twitter and Google+)