Thirumavalavan drops fast, signals 'change of strategy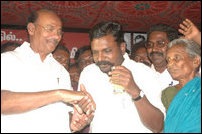 VCK leader Thol Thirumavalavan, in his fourth day of the fast-unto-death said that he was forced to reconsider his decision to continue the fast because of the emotional pleading by his frenzied cadres, particularly women cadres who threatened self-immolation, and the shoot at sight orders that had been given by the state police department. "At this stage, I have to ensure that those who lay their love and trust in me should not lose their lives," Mr. Thirumavalavan said. He added that henceforth the VCK had snapped all ties with the Congress party.
Mr. Thirumavalavan regretted that there was no indication of his ceasefire-and-talks demands being met even four days after his fast.
His decision to withdraw from the fast comes after the steering committee of the VCK decided to press its leader to drop the fast after meeting twice as their leader fainted and was taken to an ambulance for health check.
The district and state-level office bearers of the VCK, in a meeting held on Sunday morning resolved that the fast should be dropped and that the VCK should adopt some other strategy to ensure that its demands are met.
"We knew that the Indian Government would not relent to us. They never budged even when Lt Col Thileepan lay dying in Jaffna, so we know how hard-hearted and merciless New Delhi is.," Mr. Thirumavalavan said.
Thiruma requested Dr.Ramadoss to advise him on how to change the strategy and mode of his protest and added that he would resume his fast otherwise.
"We need to go to the next stage of the protest because my fast does not seem to have any effect on the Indian Government. At the same time, I am also burdened with the responsibility of the safety of the lives of my cadres."
"The Sinhala military had experienced heavy losses and was running away from the battle. But, India had sent it's lethal weaponry and its military personnel to chalk out a strategy, to direct and to conduct the proxy war," Thirumavalavan alleged.
VCK legislator D Ravikumar said: "Gandhi's language will never be understood by the current establishment at New Delhi." He requested the Liberation Panthers to return to its "old form" of resistance. He also vowed to work to ensure that the Congress party would not win even in a single constituency in the state of Tamil Nadu. "We are willing to forget electoral politics," he said.
PMK founder-leader Dr.Ramadoss began his speech saying that Tamil people's blood was boiling when they read that India and Sri Lanka shared a relationship that was "so deep, so close, so warm." He wondered why the Indian Government maintained a stoic silence to the demand of Ceasefire in Sri Lanka.
The PMK leader further said that Thiruma's extremely high pulse rate and abysmally low blood pressure made his cadres very anxious about the state of his health. He therefore appealed to Thirumaa to give up his fast unto death.
"If the VCK and the PMK did not exist, they would have built a graveyard for Tamil and Tamil sentiments in this state. Tamils have lost their language and their land, and now our self-respect. But we are not willing to lose it totally. The time has come forward for us to change our strategy of struggle. The next stage of our protest should shake our country," he said.
"Tamil Nadu should come to a standstill. There should be no transport, no movement within the state. Tamil Nadu should grind to a halt and remain together until a ceasefire is effected in Sri Lanka. We should not allow anything other than ambulances and milk vans to ply on the roads. After a week, or after ten days, the Indian Government will be on its knees. They will have to tell us: we respect Tamil sentiments. We have asked Sri Lanka to stop Tamil genocide. You please stop your protest." We have to ensure that this eerie silence of a graveyard envelops Tamil Nadu," Ramdoss told Thiruma.
"When I and my brother Thiruma called on the Chief MInister, he asked us what could be done? This is our joint decision. We are sure that the 60 million Tamils will cooperate with us." Dr Ramadoss requested Karunanidhi to look into this request. "If the Chief Minister simply says that the DMK will join our protest, it is enough. We will take care of the rest he said."
Addressing media persons after handing over a cup of juice to Thiruma, he made an appeal to Karunanidhi through the media: "Kindly hold an all-party meeting at the earliest at a public place (other than the State Secretariat or your party headquarters). We will propose our plan and let other parties join our protest. This is only idea that I can suggest. If he can suggest a better struggle that will bring Tamil Nadu to complete standstill, let him suggest it, so that we can follow it."
(For updates you can share with your friends, follow TNN on Facebook, Twitter and Google+)