Jackie Shroff lauds Kollywood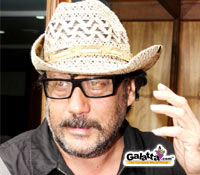 The Aaranya Kaandam (also spelt as Aranya Kandam) team – including its producer S.P. Charan and lead actors Jackie Shroff, Sampath, Ravi Krishna and Yasmin – met with the press on January 19th to talk about their film.
Speaking at the occasion, Jackie Shroff thanked S.P. Charan for providing him a chance to act in his film. The entire hall reverberated with the tall and handsome actor's baritone as he spoke. Expressing his high regards for Tamil film industry, he said he is very proud to become a member of Kollywood, a wonderful film industry which gave legendary artists A.R. Rahman, Ilayaraja and Rajinikanth to the nation. Also, Jackie Shroff added that S.P. Balasubramaniam has sung quite a lot of songs for him and it gives him immense pleasure to act in his son's film.
When questioned about why he did not act in Tamil films so far, the actor replied matter-of-factly that no one invited him. The actor also explained that though he had not acted in a Tamil film so far, he had visited Chennai several times in the last 25 years whenever a Bollywood film shoot was held here. Thus he knew the Tamil film industry very well. About his role in the film, the actor said that he plays a don in Aaranya Kaandam.
(For updates you can share with your friends, follow TNN on Facebook, Twitter and Google+)