Japan For Political Solution To Lankan Crisis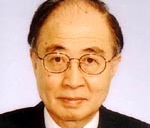 A top Japanese envoy will arrive in the Sri Lankan capital, Colombo, Wednesday to underline the need for a political solution to the ethnic conflict in the island nation, media reports said.
Japanese 'peace' envoy Yasushi Akashi during his five-day visit will discuss, among other things, the process towards finding a political solution to the Tamil ethnic conflict. He will meet with top Sri Lankan leaders, including President Mahinda Rajapakse and representatives of the ruling and opposition political parties.
The visit of the representative of the government of Japan for 'Peace-Building, Rehabilitation and Reconstruction in Sri Lanka' follows the recent developments of the situation in Sri Lanka, the Japanese embassy said in a statement.
The visit comes as the military pushes ahead with an offensive in the north to uproot the Liberation Tigers of Tamil Eelam (LTTE) from its last bastion of Mullaittivu and ending the country's 25-year-old civil war. The LTTE has been fighting since 1983 for an independent state for the minority ethnic Tamils, alleging marginalization of the community for decades by governments dominated by the Sinhalese.
(For updates you can share with your friends, follow TNN on Facebook, Twitter and Google+)