LTTE trying to stage a comeback in eastern Sri Lanka: experts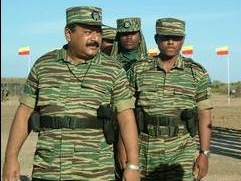 Even as the Sri Lankan Government claims that the 30-year-old war between its Army and the LTTE is coming to an end, experts here warn that the Tamil Tigers are slowly trying to stage a comeback in the east of the island and could activate their "sleeper cells".
They also say the capabilities of the LTTE cannot be "undermined" and that the Tamil Tigers will carry on their struggle through guerrilla warfare even after losing their last bastion of Mullaitivu, which is the headquarters of 'Sea Tigers'.
"After the Sri Lankan Army captured the rebels' de-facto capital of Kilinochchi, there is an increase in the incidents of violence in Colombo and its suburbs. And also, after losing their strongholds in the north, the LTTE is slowly staging a comeback in the East," Prof V Suryanarayanan, expert on Sri Lankan affairs, told PTI here.
The Sri Lankan Army brought the entire Eastern Province under its control in 2007 and the government conducted provincial elections in the areas liberated from the Tigers last year.
(For updates you can share with your friends, follow TNN on Facebook, Twitter and Google+)