Plot to bring down the DMK govt.?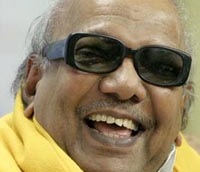 Is there a plot to destabilize the DMK Government? Well, the Chief Minister of Tamil Nadu has said that there was an effort to incite violence and unrest to topple the State Government. "If that happens, the DMK might lose power in the State for a third time for the cause of the Sri Lankan Tamils."
It is unfortunate that the politics in Tamil Nadu is obsessed with the Sri Lankan issue. Let me hasten to add that my love for our Sri Lankan Tamils is no less than that of anyone here. Dr Ramadoss had called for an indefinite bandh in the State 'until a ceasefire is announced in Sri Lanka.' The very next day, he says that his speech at Thol Thirumavalavan's fast venue, asking the Chief Minister to lead an indefinite bandh until a ceasefire was declared in Sri Lanka was made on the spur of the moment. Well, no experienced, matured, veteran leader could make such irresponsible suggestions on the spur. How will the public know if they are making comments on the spur or after a great deal of thought? Did Thol Thirumavalavan also take the decision to 'fast unto death' on the spur of the moment?
Little doubt, this is indeed an emotional issue. Tamils in the island nation are facing a real problem. They are in trouble. We should only do things that would help them. We should desist from doing anything that might ultimately harm their interest. I have a feeling that enough has been done.
In this connection, the statement of the Sri Lankan President that his Government was only against terrorists and not against Tamils acquires significance. Sri Lanka is an independent sovereign nation and the Government there cannot allow any interference in its internal affairs.
(For updates you can share with your friends, follow TNN on Facebook, Twitter and Google+)