Civilians 'die in Lanka shelling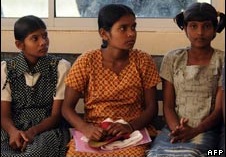 At least five civilians have died after a makeshift hospital was shelled in a rebel-held area of northern Sri Lanka, health officials there say.
Pro-rebel websites blame the army for the deaths, but the military has strongly denied being responsible.
There is no way to confirm the claims as independent journalists are barred from the conflict zone.
After a series of defeats in recent months, the area around Mullaitivu is the rebels' sole remaining stronghold.
Earlier, the army said it had captured what it believes is the main operations centre of the Tamil Tigers in the north.
Army spokesman Brig Udaya Nanayakkara said troops had found detailed maps of army and rebel deployments in an empty building in Mullaitivu district.
The Tigers have not commented on the army's claims.
Regional health official Dr T Varatharaja told the BBC that two shells had hit a temporary hospital which had been set up inside a school in the district.
"Five civilians were killed and more than 20 others injured in the attack today," he said.
"More than 50 civilians have been killed in the last three days. More than 100 severely injured. We are unable to cope."
The BBC's Anbarasan Ethirajan, in the Sri Lankan capital Colombo, says the current scenario – fierce fighting and the possibility of high civilian casualties – is the one everyone had been dreading.
He says there are tens of thousands of homeless civilians trapped between the advancing army and the rebels.
On Wednesday the military said it had designated a safe zone for civilians as it pushes ahead with its offensive in the Mullaitivu area.
Just a day later, the pro-rebel TamilNet website said the army had shelled the hospital.
But a military spokesperson dismissed those claims, calling them nothing but rebel propaganda.
He said there was no need for the army to fire at civilian areas.
Last weekend, medics said at least 18 civilians had been killed around Kilinochchi and Mullaitivu. The rebels blamed the military – the government insisted the reports were false.
Meanwhile, the UN has criticised the Tigers for not allowing safe passage out of the conflict zone to UN workers who had travelled there last Friday to deliver food and emergency supplies to displaced people.
"The UN calls on the Tamil Tigers to meet their responsibilities and immediately permit all UN staff and dependents to freely move from this area," a statement said.
"The denial of safe passage is a clear abrogation of their obligations under international humanitarian law."
There was no immediate rebel response to the statement.
Military offensive
The Tamil Tigers have been fighting for a separate homeland for 25 years. At least 70,000 people have been killed in the insurgency.
The rebels had established a de facto state squeezed between government-controlled Jaffna in the north and the rest of the country.
(For updates you can share with your friends, follow TNN on Facebook, Twitter and Google+)