Yuvan's concert at Canada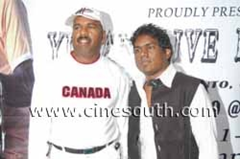 Yuvan will soon for the first time, enchant rasikas with his music overseas.
There's a saying of the Lord that "nothing moves without his grace." One could say in contect of Tamil films that many a film moves thanks to Yuvan's music. In both songs as well as background music, this young man upholds his father Ilayaraja's greatness in music. Till now, Yuvan has not done live music concerts, but for the first time, he is now to do a show for overseas fans on April 25 at Toronto , Canada .
"For the first time, I'm going to do a mega concert. This will take place on April 25 at Toronto 's Roger Centre. I have a lot of fans in Canada , so a company called Platinum has arranged this program. About 50 artistes will participate in this program. The singers include Hariharan, Shankar Mahadevan, Blessy, Vijay Jesudoss and my father as well. Playback singers Vasundhara Das, Swetha, Bhavadharini and others will sing. If this show goes successfully, I will consider doing other concerts overseas," said Yuvan Shankar Raja.
Dance by actresses as well as comedy skits are expected to be a part of the show. Meenakshi, Sana Khan and Tarika will dance.
(For updates you can share with your friends, follow TNN on Facebook, Twitter and Google+)