Indian gov't ally renews Sri Lanka resignation threat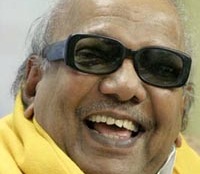 The ruling party of the southern Indian state of Tamil Nadu threatened on Friday to pull out of India's federal coalition unless New Delhi pushes for a ceasefire in Sri Lanka.
"If giving up power will lead to the birth of Tamil Eelam, we shall only be too glad to do so," Tamil Nadu chief minister M Karunanidhi said in the state capital Chennai, referring to a Tamil homeland in Sri Lanka.
Karunanidhi's resolution said his party would consider quitting the government if India did not help secure a truce in the worsening conflict, in which Sri Lankan forces are close to wiping out the Liberation Tigers of Tamil Eelam (LTTE).
Passed by his Dravida Munnetra Kazhagam party (DMK), lawmakers from India's ruling Congress party and smaller pro-LTTE parties, the ultimatum gave no timeframe.
The Indian government would almost certainly be able to remain in power until federal elections due by May without the DMK and analysts say the party's threat to withdraw may be posturing ahead of the vote in the majority Tamil state.
It was the second such threat in four months.
The DMK withdrew its plan to pull out by late October after foreign minister Pranab Mukherjee flew to Chennai to discuss his talks with Sri Lanka's special envoy Basil Rajapakse.
Mukherjee at the time said there were limitations to India intervening in another country's affairs.
Sri Lanka's military has boxed the LTTE into an area of less than 400 square km (155 sq miles) after the most successful campaign so far in a 25-year war, and wants to deliver a final blow to the last rebel redoubt, the port of Mullaitivu.
Human chain protests were held in Tamil Nadu in recent months as Sri Lankan forces intensified their offensive.
Aid agencies have warned that about 230,000 refugees are trapped and at risk of being caught in the crossfire.
(For updates you can share with your friends, follow TNN on Facebook, Twitter and Google+)