Slumdog brings joy to Chennai!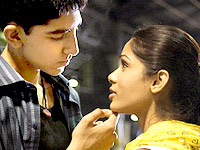 It's joy and jubilation for several thousand A R Rahman fans across the State as the news of his nomination to Oscars was heard on Thursday. The calm and humble music composer, shot fame not overnight but had to patiently wait for things to happen.
From Roja to Slumdog Millionaire, life has taken many twists and turns, but Rahman as always remained the super human being as he was in his life. Even the news of his nomination to Oscars has not made any difference to him. In his typical manner, Rahman spoke very little. The Mozart of Madras said, 'I feel the whole world is watching. Everything is blur. Honestly, I am not thinking about the Oscars now. I'm at the top of the world'.
However his fans have already started their celebrations. They distributed sweets and popular tunes of Rahman were belted out in several shops and households since lat night. An avid-fan of Rahman, said, 'no doubt, A R will bring home the Oscar. He deserves it. A man who has brought repute to the whole nation with his music score should get such great honour'.
Echoing the same, another fan expressing her admiration for Rahman, said, 'his music is like a medicine for me. I grew up listening to his works. He has brought name and fame to the whole country. I pray Almighty that he gets the award on 22 February'.
Ganesh Muthu, who owns a audio shop in Chennai, says, ' ever since Rahman won the Goldenglobe, enquiries for his musical album among the Westerners increased. Hopefully it would swell in the coming days.'
Rahman's fans are eagerly awaiting for 22 February with prayers that he gets the award. Meanwhile, a good news for the loyal Rahman in Chennai is that the Slumdog Millionaire is getting ready to speak in Tamil soon. The dubbed version in Tamil will be released soon titled Nanum Koteeswaran Than.
(For updates you can share with your friends, follow TNN on Facebook, Twitter and Google+)