A. R. Rahman – Destiny's Child or just Incredibly Talented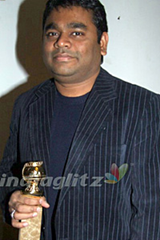 "Allah Rakkha Rahman is not just a talented musician. He is a phenomenon with the potential to take the world by storm".
These are words that were often used to describe Rahman ever since he scored music for his first film 'Roja'. These words are turning out to be prophetical as Rahman has convincingly won numerous international Critics' Awards and the prestigious Golden Globe for best original composition. And now the musical genius has a foot firmly placed at the mother of all award ceremonies – the Oscars.
With three nominations, many 'Oscar Speculators' believe A. R. Rahman is a huge favorite to convert these nominations into victories…. and a billion hearts would be hoping against hope that Rahman wins at least ONE of these nominations if not all three. And if that happens, history would be made….and along with it additional spotlights would be beamed on Indian Cinema. Something that will make all Indians proud.
R. K. Shekar and Kasturi were proud parents of a baby girl but then they also wanted a son. It is said that the couple met with some astrologers who told them quite emphatically that they would indeed be blessed with a baby boy who would grow up to illuminate the world with his innate musical talent.
About a year and a half later, in the year 1966, a baby boy was born and was named Dileep. Born to parents who were passionate about music, the boy took to the world of pleasant sounds like a duck taking to water. His father R. K. Shekar was a composer for movies (especially Malayalam films) and little Dileep grew up watching him. Dileep who would later become A. R. Rahman lost his father when he was nine years old and Kasturi turned all the more protective with a conscious move to protect an influence that her husband had started. She made her little son practice the piano every morning.
Music was not just an offshoot of passion anymore for young Dileep. He knew he had to master the art of composition so that music can continue to be the bread-winning source for his family.
Like so many success stories, the element of sacrifice played a major role in Dileep's upbringing. He was often brought away from hanging out with peers or playing with them in order to practice music. As Himalayan efforts were put in, a prophesy was waiting to be realized.
Dileep along with his family had converted to Islam and was rechristened A. R. Rahman. He had become a major player in the world of advertisements composing jingles. His innate talent was a force to reckon with and surfaced quite dramatically. Films were not far away. After working with the likes of Illayaraja and many more, Rahman got an opportunity to compose music for Mani Ratnam's 'Roja'….and the rest as they say is history.
Well….everybody knows what A. R. Rahman's talent is like thanks to his bountiful musical compositions. But then who is he as a person? Was he born with this incredible talent or is his genius the result of excruciating hard work?
Let us take a look at an incident that sparked off a sensational bit of composition. The time was about seven in the evening and womenfolk in the kitchen were busy preparing dinner. In walked an exhausted Rahman after a strenuous day at work humming tunes that were spontaneous reactions to involuntary relaxation. He found some brinjal, ladies finger, snake gourd and some more vegetables. Rahman took a kitchen knife and started chopping off the vegetables in a bid to help out with preparing dinner. As he went about slicing the gourd, he sort of hummed 'Podalanga….Podalanga' (Tamil for Snake Gourd). The rest in the kitchen looked at him in an admiring fashion and said 'it sounds good'.
Later when Tamil film director Kadir approached him to compose music for the film 'Kadhal Desam' he wanted a tune that was carefree in nature and yet emphasized the essence of friendship. Rahman hummed the tune he had composed in the kitchen. The director was ecstatic. He got what he wanted. This is how the famous song 'Mustafa….Mustafa….don't worry Mustafa' was born.
A genius is one who does not necessarily work only in the office (studio in this case). His life is itself a journey of what he does best. A. R. Rahman is no different. Passion drives him to perfection.
This is what Danny Boyle found in Rahman ….passion and perfection. This man could come up with fusions the western world has never heard of….and this fact adds on to the exotic appeal. All Danny Boyle, director of 'Slumdog Millionaire' did was showcase the effect Rahman's music had on him in its entirety. The music did the talking from thereon enthralling worldwide audiences of the film.
Winning the Oscar is most definitely not THE achievement as far as Rahman is concerned. He is made of the stuff that'll make Oscars follow him. An incredible journey and Rahman has just about started with it.
(For updates you can share with your friends, follow TNN on Facebook, Twitter and Google+)