Delhi students on hunger strike to protest Colombo's war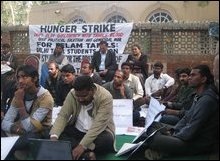 Students from different universities and colleges in New Delhi, joined by lawyers, teachers and human rights activists held a one day hunger strike Saturday expressing solidarity with Tamil people in Vanni, and protesting against the "onslaught on Tamil people in a unilateral war declared by the Sri Lanka military with a tacit understanding of the Indian Government," organizers of the event said.
"The minority Tamils have been struggling for their self-respect and self-determination for the last almost 30 years. Lakhs of them have been killed or eliminated. Millions of them have become refugees in their own land. The hunger strike started at 10:00 a.m. continued till 5:00 p.m, through the hunger strike we want to send a strong message to the Sri Lankan government led by Mahinda Rajapakse," a media release issued by the protesters said.
Urging the Indian Government not to "play diplomacy with the blood of Tamils," and pointing out that the "Sinhala government is not ready to provide a political solution," the students put forward the following demands:
From this platform we demand to stop the war with immediate effect and seek and search ways and means for a political solution.
The Indian government should warn the Sri Lankan government in no uncertain terms to stop the war openly.
The Indian government should stop giving our tax money for killing our own brothers and sisters – call back all the military personals Immediately.
As a symbol of commitment to the human rights call back all the diplomats from Sri Lanka to condemn genocidal human rights violation.
The UN must step in and stop the genocidal war against the Tamils in the two nation island.
We demand that the political parties in TN should stop playing politics with the Sri Lankan issue instead they should untidily fight against for safeguarding the Tamils in Sri Lanka and fight against the alienation and marginalisation of Tamils by the majority Sinhalese.
(For updates you can share with your friends, follow TNN on Facebook, Twitter and Google+)