'Safety zone' shelled again, 5 civilians killed, 83 wounded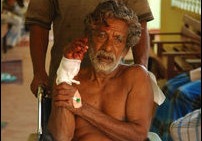 Five civilians, including a10-year-old girl and a 56-year-old Saiva priest, were killed and 83 civilians wounded Friday when Sri Lanka Army (SLA) fired artillery shells targeted 'safe zone' areas such as Iruddumadu in Udaiyaarkaddu and Va'l'lipunam in Mullaiththeevu district at least four times, according to medical sources in the region. More than 20 of the wounded people were children. More than 20 of the wounded victims are children.
The shelling and Multi-Barrel Rocket Launcher (MBRL) rocket fire targeted the villages Thearaavil, Mayilvaakanapuram, Iruddumadu, Va'l'lipunam and Theavipuram at 10:45 a.m., 11:00 a.m., around 2:30 p.m., and 6:00 p.m.
A 10-year-old girl was killed Thursday night around 11:00 p.m. at Moongkilaa'ru where Ki'linochchi district Government Agent's office is situated.
A Saiva priest, identified as Sivam kurukkal, was killed at Mayilvaakanapuram at 6:00 a.m. Friday.
Two dead bodies of civilians, killed in Va'l'lipunam and Theavipuram, were taken to Putukkudiyiruppu (PTK) hospital mortuary. One of the slain victims was identified as Thuraisingam Paranthaman.
An elderly man was killed and 34 civilians were wounded in the shelling at Iruddumadu around 10:45 a.m.
(For updates you can share with your friends, follow TNN on Facebook, Twitter and Google+)