Set deadline for ceasefire: Ramadoss, criticises resolution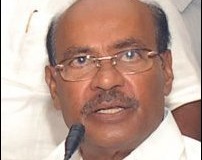 Pattali Makkal Katchi(PMK) founder-leader S Ramadoss today reiterated that the Tamil Nadu Chief Minister M Karunanidhi must 'give a deadline' to the Centre to force ceasefire in the alleged genocide against Tamils by the Sri Lankan army.
"A decision should be taken at an all party meeting after issuing a deadline to the Centre on forcing a ceasefire in the war against Tamils in Lanka, he demanded, talking to newspersons here.
He cricised the resolution passed in the Tamil Nadu assembly saying that the 'last appeal' to the Centre appears to be deceptive.
"One does not know whether this would bring about any change in the situation in Lanka", he also charged.
He also alleged that Mr Karunanidhi's statement that if the final appeal to the Centre also fails to bring about a ceasefire, he would convene the General Council of DMK party, was wrong.
He observed that the Lanka Tamils issue was of concern to all sections.
He said his party has been agitating on the demand that the Sri Lankan government must end the war against Tamils.
His party MPs had met with leaders in the North India seeking support to this demand, he said and added that Tamil Nadu Chief Minister had also passed resolutions twice in the Assembly.
He had also taken leaders of various political parties to meet Prime Minister Manmohan Singh in New Delhi, he said.
(For updates you can share with your friends, follow TNN on Facebook, Twitter and Google+)