Where is Prabhakaran?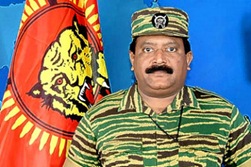 As the military inches towards the much spoken of and well fortified underground bunker of LTTE leader Vellupillai Prabhakaran possibly in Puthukkudiyiruppu or Vishwamadu, all the guns, radars and ships have tightened their surveillance to stop him fleeing the Lankan shores.
While diverse opinions are expressed and penned down about his presence or possible 'departure', some politicians who were one time his close buddies believe that he is still active in Vanni and others say that he has fled the country as he loves 'his life' more than anything else!
"Where is Prabhakaran ….?" While this would be the latest mantra all over the country and the region and several countries that are listed as possible safe havens, he who knows well about where he is may be enjoying the rumours about his 'disappearance', if he is still alive.
The Army Commander Lt. General Sarath Fonseka, who brought the war to Prabhakaran's door-step shattering his life long dream of an Eelam State, strongly believes that the LTTE leader cannot remain in a land of 350 square kms. "I do not think he could remain there without coming out as the troops are very close to whatever hideout he is in", he said.
The Army Chief said that 98 percent of Asia's longest terrorist war was over and a new task – hunting down of Prabhakaran – was now added to the military exercise. "Killing rate is high and now the LTTE's fighting power has been reduced to less than 1,000 cadres", he said adding that this would be Prabhakaran's last conventional battle.
Last battle for LTTE
Sounding the same opinion, the former Head of Intelligence with the Indian Peace Keeping Force in Sri Lanka during 1987-1990, Col. R. Hariharan noted that the 'liberation of Mullattivu would be the last conventional battle of the LTTE.
"The battle being waged by the Liberation Tigers of Tamil Eelam (LTTE) to defend Mullattivu in the face of the Sri Lanka Security Forces' onslaught may well be the last conventional military operation by Tamil insurgent leader Velupillai Prabhakaran in the two-year-long "Eelam War IV." Mullathivu is the LTTE's last bastion, what is left from an original domain of nearly nine districts it had ruled for over a decade. The Security Forces are building up a four to six division-strong force for what they promise to be the closing call on the LTTE", Col. Hariharan, who was a specialist on Bangladesh, Burma, and Sri Lanka with special focus on insurgency and terrorism, wrote in his column in 'The Hindu' newspaper.
He has noted that possibly Prabhakaran's last battle is likely to leave him in a position similar to what he was in 1987 – mauled badly and trying to cut his losses and live to fight another day. "And, as earlier, the security forces are at his heels to catch or kill him. After losing the precious 24,000 lives of his followers in nearly three decades of war, Prabhakaran is still where he was to pursue his dream of a Tamil Eelam", he has noted.
The leader of the PLOTE and a close buddy of Prabhakaran in his initial stage of the armed struggle, Sitdharthan Dharmalingam also believes that Prabhakaran may have already fled the country. He said that Prabhakaran's 'instinct for survival' was high and he believes that he has to be alive today to fight tomorrow. "So, I think he would have escaped before Mullattivu and the adjacent area was blocked", he said.
According to the PLOTE Leader, the outfit runs with no command and it seemed that the second level leadership too has escaped or hiding some where. "The civilians, who fled some areas in Mullattivu, say that they have not seen the other top leaders, who used to ply on roads in luxury Pajaros, recently. Only the motor cyclists were seen commanding the civilians", they said.
End of the LTTE
Prabhakaran's biographer Narayan Swamy in an 'illusive mind' says "He is their brain. He is their heart. He is their god. He is their soul, and the whole organisation runs around him and the loss of Prabhakaran would be devastating to the group," Sithdharthan too says that once Prabhakaran is gone that would be the end of the LTTE.He said that Tamil Nadu which was a safe haven for the LTTE in 1970s and 1980s would not be a hiding place for the LTTE or Prabhakaran as they treat them as 'trouble makers' for Tamil Nadu. "I do not think that Prabhakaran can raise his head again as the Sri Lankan military is more powerful now than earlier", he said.
Minister Douglas Devananda, who escaped death 13 times in LTTE attacks, said that Prabhakaran was in Mullaittivu or fleeing to another country was not a big issue. "One thing is certain. Wherever he hides, he has been completely rejected by Tamil people in the island and abroad. So, he is no more a Tiger. He is now only a lame duck. Very soon the Armed Forces will take control of the entire Vanni. With the taking over of the Vanni I believe Prabhakaran and his clan will have a natural death. Once Prabhakaran is cornered he will adopt the same tactics like Hitler and commit suicide", he said.
The former Military Commander of the East and now the UPFA Parliamentarian and the Leader of the TMVP, Vinayagamoorthi Muralitharan,who was the closest buddy who knows Prabhakaran's heart beat more than anyone else said, that he would not die as he loves very much to live.
Cannot escape
" According to my knowledge he is still there as he cannot escape to any other country as none of them are willing to accept him. It is very difficult for him to go to other South Asian countries too as they have intensified their vigilance.
Especially helping and giving refuge to him – a convict and a leader of a banned organisation is illegal", he said adding that the LTTE would face difficulties in surviving in future as they do not have the support of the Tamils.
(For updates you can share with your friends, follow TNN on Facebook, Twitter and Google+)