S Lanka troops 'in rebel bastion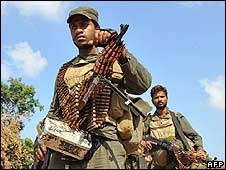 Sri Lankan troops have entered the last Tamil Tiger rebel stronghold of Mullaitivu in the north-east of the island, military sources say.
The town has not been captured and intense fighting is going on, the military spokesman told the BBC.
There has been no comment from the Tamil Tigers, who have suffered a series of reverses in recent months.
The government has vowed to crush the rebels, who have been fighting for a separate homeland for 25 years.
At least 70,000 people have been killed during the insurgency.
Stall tactics
A government spokesman said troops from the 59th division had entered Mullaitivu and that it was "a matter of time before they take full control of the area".
Tamil Tiger rebels blasted through the walls of a reservoir on Saturday in an attempt to stall the advancing troops, the military said.
The government has won a string of military victories in recent months, including the capture of the rebels' de facto capital of Kilinochchi.
The rebels are now confined to their sole remaining stronghold – the area surrounding the town of Mullaitivu.
There is no way of confirming any of the claims as independent journalists are barred from conflict zone.
As fighting continues, aid agencies say they are concerned over the safety of 250,000 civilians reportedly trapped inside the conflict zones.
(For updates you can share with your friends, follow TNN on Facebook, Twitter and Google+)