UN says dozens of civilians killed as Tigers flee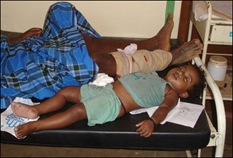 The United Nations said Monday at least 30 civilians had been killed in fighting between government forces and rebels in Sri Lanka amid a drive to root out the last pockets of Tamil Tiger resistance.
The UN spokesman in Colombo, Gordon Weiss, said at least 10 civilians were killed on Monday morning inside an area declared as a "safety zone" by the Sri Lankan military while dozens more were killed or wounded over the weekend.
Weiss said he could not say who was responsible for the civilian casualties, but UN staff in the area had witnessed civilians getting hit by artillery shells.
"Roughly at least 20 people were killed over the weekend when shells landed on the A-35 road inside the safety zone. Our staff members were at the scene to witness it," he said. "We don't know where the firing came from."
The government last week declared a safe zone inside what is left of rebel-held territory in the district of Mullaittivu to prevent tens of thousands of civilians getting caught up in the crossfire.
The rebel Liberation Tigers of Tamil Eelam (LTTE) did not comment on the casualties, but pro-rebel Tamilnet.com website said more than 100 civilians were killed in artillery fire on Monday, a charge denied by the military.
"More than 100 civilians were killed and hundreds of wounded were helpless without medical attendance as the army continuously engaged in one of the most inhumane artillery barrages on the civilian-populated safety zone," Tamilnet said.
Military spokesman Brigadier Udaya Nanayakkara dismissed the website report as cheap propaganda.
"They (Tamil Tigers) are creating a situation, trying their level best to stop the military onslaught. They are trying to win international sympathy," Nanayakkara said.
Government troops on Monday pushed deeper into the last pockets of jungle still held by the Tigers after capturing the rebels' final urban stronghold and military headquarters of Mullaittivu town on Sunday.
Soldiers overran Mullaittivu, a northeastern coastal town held by the Tigers for more than a decade, on Sunday — three weeks after taking Kilinochchi, their political capital where they had their own courts, police and a bank.
Army chief Lieutenant General Sarath Fonseka said the LTTE now controlled just a "small strip" of land in the northeast, and were cornered and about to be completely defeated.
"We have cleared 95 percent of the work (to defeat the Tigers)," Fonseka said, as the island's government expressed confidence it would soon win one of Asia's longest-running civil wars after a massive military offensive.
"The end of terrorism is near and we will definitely win," Fonseka said.
The defence ministry in a statement said 25 bodies of Tigers were found following Sunday's fighting in the Mullaittivu region.
Battlefield claims from either side cannot be verified as independent journalists are barred from travelling to the conflict zone.
President Mahinda Rajapakse congratulated his troops, saying Sri Lankans wanted to pay "heartfelt tributes to the war heroes who have fought relentlessly to eradicate terrorism from our motherland."
The fate of LTTE chief Velupillai Prabhakaran — who has been leading a separatist war against Sri Lanka's ethnic Sinhalese majority since 1972 — is unclear, with some suggesting he has already fled the island.
The Tigers are widely expected to return to fighting a guerrilla war from hidden jungle bases.
Military officials say 50,000 government troops are now fighting fewer than 2,000 Tiger fighters.
(For updates you can share with your friends, follow TNN on Facebook, Twitter and Google+)