Child actors exploited in Slumdog Millionaire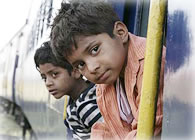 Slumdog Millionaire's producers have now been accused of exploiting two child artists who starred in the film. According to the parents of Azharuddin and Rubina, the children were paid a paltry sum for starring in the film while its producers have garnered huge profits. They further say that they did not realize the importance their child's acting in the film would make. With the Slumdog Millionaire receiving rave reviews and being nominated for the Oscars, they now feel that their children have been exploited by the filmmakers.
Dismissing these accusations, the director of Slumdog Millionaire Danny Boyle stated that a trust has been formed for the welfare of Rubina and Azharuddin. In joint statement, the producer Christian Colson and director Danny Boyle have said: "(We have) paid painstaking and considered attention to how Azhar and Rubina's involvement in the film could be of lasting benefit to them over and above the payment they received for their work. The children had never attended school, and in consultation with their parents we agreed that this would be our priority. Since June 2008 and at our expense, both kids have been attending school and they are flourishing under the tutelage of their dedicated and committed teachers. Financial resources have been made available for their education until they are 18.
(For updates you can share with your friends, follow TNN on Facebook, Twitter and Google+)