Nadhiya in Vikram's film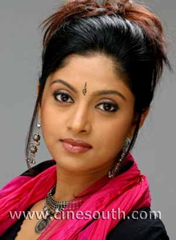 When one loves to even watch a Nadhiya film, who would not want to act with the lady herself? Vikram's wishes are to be fulfilled soon.
In the 80s, whatever Nadhiya wore, from jewellery to clothes, became a fashion. After her marriage, Nadhiya settled down overseas and became engrosses in family life. After the few years, Kodambakkam has attracted her gaze again.
Even now directors are ready to offer her heroine roles! That's how well Nadhiya has maintained her youthful good looks. When Raja brought her here to act as Jayam Ravi's mom in 'M Kumaran Son of Mahalakshmi,' he earned the thanks of thousands of Nadhiya fans.
There's a Nadhiya wave again in Tamil films. She's sizzling in mother, sister and anni roles. People not only love watching her on screen, stars would also love to act with her and one of them is Vikram. When he recently met her and expressed this to her, Nadhiya was touched and expressed her appreciation that she would also love to act with him as he believe din portraying varied roles.
(For updates you can share with your friends, follow TNN on Facebook, Twitter and Google+)