10,000 French Tamils demonstrate in Paris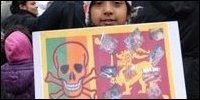 More than 10,000 French Tamils participated in a demonstration protesting against the killing of several hundred civilians by Sri Lanka military in the past week, and urging Pakistan to stop military and other assistance to the Sri Lanka Government to prosecute war against Tamils, sources in Paris said. The protest was organized by the World Tamil Coordnating Committee (WTCC), in the historic Etuval area of France in front of Embassy of Pakistan Wednesday between 2:00 p.m and 5:00 p.m. The demonstration follows a spontaneously organized protest by an activist segment of French Tamils in the La Chappelle area Tuesday.

Demonstrators carried an effigy of Sri Lanka's President, Mahinda Rajapakse, and shouted slogans condemning the artillery attacks and aerial bombardment by Sri Lanka military that killed, in one day, more than 300 of civilians. The civilians had sought refuge in Udayaarkaddu safety zone demarcated by the Government where the militiary targetted the attacks.
Representatives of the French Tamil community handed over a memorandum to the Pakistan Embassy official, appealing to Pakistan Government to stop aiding Colombo in the perpetration of war against Tamils.
Participants in the protest said, this is the first time in France, such large numbers had assembled, and that there is marked increase in the involvement of expatriate Tamils in activities related to Tamil struggle.
(For updates you can share with your friends, follow TNN on Facebook, Twitter and Google+)