Pull back Indian military help to Lanka: Thirumavalavan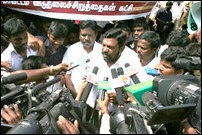 Taking part in a students' demonstration of the Murpokku Maanavar Kazhagam (Progressive Students Organization) held opposite Memorial Hall in Chennai Thursday, VCK President Thol. Thirumavalavan demanded the Indian Government to immediately take back all military help extended to Sri Lanka and blamed New Delhi for supplying sophisticated weaponry to exterminate the Tamil people in Vanni.
He quoted news-reports in the Sinhalese media, which clearly exposed that Indian External Affairs Secretary Shivshanker Menon and Minister Pranab Mukherjee had visited Sri Lanka only to enthuse and encourage the Sri Lankan Army.
Citing media-reports that 60 battle-tanks were being despatched via Erode and Kozhikode to the Cochin harbour, the VCK President wondered: Is Cochin near Kashmir? Are Pakistanis and Chinese infiltrating into Cochin? Is there Cochin war going on like the Kargil war? Why do we need battle-tanks there? No, Cochin Harbour is in the south. If battle tanks are going to Cochin, it only means that they are meant for shipment to Colombo.
"The Sinhalese were snoring away in their military camps, they had no intention of entering into the Tamil homeland. But the anti-Tamil Indian Government instigated the Government of Sri Lanka, supplied them with radars, weapons and battle-tanks, sent intelligence experts and military strategicians, and is waging this proxy war with sole intention of genocide," he charged. He also blamed China, Pakistan and several other nations for aiding this war, and said, "Surrounded on all sides, The Tigers are being literally strangulated. However, they know it is better to die fighting on their feet, than to lead a life begging on their knees."
Thirumavalavan said that students in Tamil Nadu are spontaneously coming to the streets and taking up protests. He narrated instances of how he was forced to withdraw his own fast-unto-death because of the several hundred incidents of violence that rocked the state, and the shoot-at-sight orders given by the State Government. "But nobody can deny the fact that my fast broke the silence on Eelam that was prevalent in Tamil Nadu. Today, if we see students protesting all over the state, it is because of the upsurge that was created," he said. History will never forgive us if Tamil people remained silent spectators to this bloody carnage, he added.
Addressing mediapersons on the sidelines of the demonstration, he held the Indian Government solely responsible for the death of Muthukumar, a young journalist who burnt himself to death in Chennai. "If a youth has gone to such a depth of sorrow and depression that he has taken away his life, it means that the people of Tamil Nadu have understood the greivous extent to which the Sinhalese government is treating Tamils."
The VCK leader also pointed out that Tamil people were driven to take such desperate measures in Tamil Nadu, because they could not bear to see their Indian Government join hands with the Sri Lankans in exterminating the Tamil race. "If the Indian Government slackens in its efforts to stop the war and save the Tamils, several more Muthukumars will arise from Tamil Nadu," he warned.
The protest demonstration organized by the Murpokku Maanavar Kazhagam, a sister organization of the VCK, saw several senior party leaders in attendance, including its General Secretary and Member of Legislative Assembly writer Durai. Ravikumar, Propaganda Secretary Gouthama Sannah, Media Secretary Se. Arivamudhan and Spokesperson Aarvalan. Ravikumar participated in the meeting after staging a walk-out from the Tamil Nadu Legislative Assembly earlier in the day condemning Pranab Mukherjee's Colombo visit and labelling it a drama.
More than 500 students belonging to various colleges in Chennai took part in this demonstration.
(For updates you can share with your friends, follow TNN on Facebook, Twitter and Google+)