Only international-sponsored ceasefire can lead to end of conflict – LTTE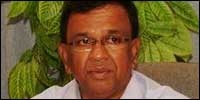 Liberation Tigers of Tamileelam (LTTE) Political Head B. Nadesan Friday blamed Colombo for stepped up genocidal artillery attacks on civilian targets Friday after committing a war crime of issuing ultimatum to civilians to move against their will into the hands of the genocidal military. Most of the civilians are continuously forced to live inside the bunkers and civilian casualties were mounting in Udaiyaarkaddu, Thearaavil and other areas, Mr. Nadesan charged. Only a permanent ceasefire mooted by the International Community and negotiations followed by it would resolve the conflict as envisaged by the Tamil people and the LTTE, Mr. Nadesan said.

At least 28 civilians have been killed from Friday morning and more than 60 sustained injuries, he said. The humanitarian food store of the Human Development Centre (HUDEC-Caritas), the social arm of the Catholic Church of Jaffna, located in Udaiyaarkaddu has also been targeted by SLA artillery barrage.
Giving an impression of a ceasefire to the outside world the Sri Lankan government is embarked on destroying humanitarian supplies to civilians in the safety zone, the LTTE Political Head blamed.
The indiscriminate artillery and Multi-Barrel Rocket Launcher (MBRL) fire was targeting the vicinity of Puthukkudiyiruppu hospital, violating the International Humanitarian Law, Mr. Nadesan further charged.
The environs of the ICRC in Puthukkudiyiruppu have also come under artillery barrage, Mr. Nadesan said. "Medical staff and the patients at Puthukkudiyiruppu hospital are in a pathetic state due to the artillery barrage by the Sri Lankan forces."
The announcement by the Sri Lankan government was aimed at deceiving the international community and to suppress the uprising of the 70 million Tamils in Tamil Nadu, Nadesan accused.
(For updates you can share with your friends, follow TNN on Facebook, Twitter and Google+)