Canadian Tamils form human chain to protest Sri Lanka's genocide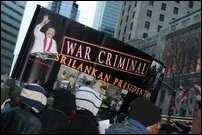 In a show of solidarity with the Northeast Tamils caught up in the war in Sri Lanka, about 45,000 Canadian Tamils people took part in the protest throughout the day Friday, forming a human chain stretching from Bloor St. to University Ave. and Yonge St. and snaked all the way to Front.according to Staff Sgt. Deb Abbott of 52 Division, with about 30,000 on Front St. alone, Toronto Star reported.
The large number of protesters at the Union Station, causing such an overwhelming sea of humanity that police were forced to close off the roadway for a time, City news reported
"It was an amazing sight, all the more so because it stayed so peaceful. There are probably thousands, tens of thousands of Tamils here all trying to bring some attention to their cause," confirmed CityNews reporter Francis D'Souza at the height of the madness. "You can see them on the street corners here trying to hand out pamphlets just to let people know what they're actually talking about."
Many held up copies of photographs of children maimed and killed in the violence. Others wore armbands or carried banners denouncing the deaths of civilians in this latest bloody phase of a civil war that has gone on for a generation, the Star said.
The Red Cross in Sri Lanka said today there are 250,000 civilians trapped in an area of jungle and villages in the north, which is dominated by the Tamils, who are a minority in the rest of the country, the Star explained.
University of Toronto graduate student Supanki Kalanadan, who helped organize the massive rally, said the only hope now is for a ceasefire.
"People have no access to food or shelter. Everyone here has someone back there who is affected," the Star quoted Ms Kalanadan as saying.
Similar demonstrations were planned for Ottawa, Montreal, Vancouver and Calgary.
Tamil student associations from universities and high schools in Greater Toronto helped mobilize people because, said Kalanadan, "we were lucky to have been educated here and to grow up with Canadian freedoms. We respect the Charter of Rights and we want the rights of Tamil people respected, too."
In Toronto, Tamil Catholics planned a 12-hour night vigil starting tonight at 8 at the Church of St. Joseph and Our Lady of Health, 172 Leslie St., according to the Star.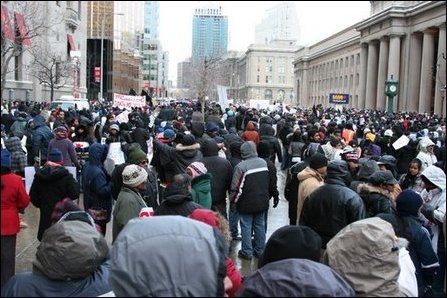 (For updates you can share with your friends, follow TNN on Facebook, Twitter and Google+)